FURTHER/DEEPER (2014)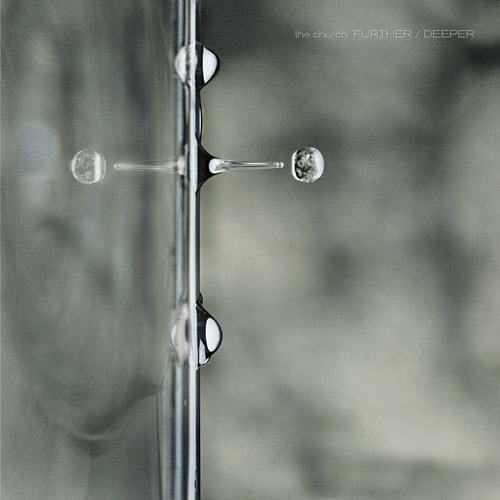 "You can expect a beautiful, complex, multilayered, powerful, noisy, intricate bunch of songs that will increase your delight at every new play." - Steve Kilbey (Volt & Volume)
Credits
Further/Deeper - the church
Steve Kilbey, Peter Koppes, Tim Powles, Ian Haug
All songs written by Kilbey Koppes Powles Haug.
All instruments played by the church.
Produced by the church and timEbandit Powles.
Recorded and much more by Ted Howard @ Rancom St Studio, Botany, NSW.
Guitarchitecture and additional remote overdubs produced by Peter Koppes, and Ian Haug @ Airlock Studios.
Vocals (and additional instrumental overdubs) produced and recorded by timEbandit Powles @ Rancom St and Spacejunk III.
Additional drum and percussion overdubs recorded by David Trumpmanis @ Spacejunk III.
Additional vocal remote recording on Volkano by Steve Kilbey.
Thanks to Caitlin West for vocals on Love Philtre, Toy Head and Pride Before A Fall,
  Shelley Harland for vocals on Vanishing Man
  and Frank Kearns for Fender 6 mood on Love Philtre.
Thanks to William Howard for outer space piano ambience on Globe Spinning.
Vanishing Man: mixed by Tim Whitten.
Delirious: mixed by timEbandit Powles, additional mixing Daniel Switchkicker, mix assistance Arlen McCarthy.
Pride Before A Fall: mixed by timEbandit Powles, additional mixing David Skeet.
Toy Head: mixed by David Trumpmanis.
Laurel Canyon: mixed by Simon Polinski and Ted Howard.
Love Philtre: mixed by David Trumpmanis.
Globe Spinning: mixed by timEbandit Powles.
Old Coast Rd: mixed by David Trumpmanis.
Lightning White: mixed by Simon Polinski and Ted Howard, additional mixing timEbandit Powles.
Let Us Go: mixed by David Trumpmanis.
Volkano: mixed by Ted Howard and David Trumpmanis.
Miami: mixed by timEbandit Powles.
Mastered by William Bowden @ King Willy Sound, Launceston, Tasmania.
Executive Producer Kip McClanahan.
Management: Rick Chazan and Brie Jorgensen / Ground Control.
Management: Keith Hagan / SKH Music.
Concept / Design: Samantha Mayfair @ www.timebeing.com
Cover Photography: Richard Bruxner @ www.blokeh.zenfolio.com
Church Photography: Mal Viles @ www.malcolmvilesphotography.com
the church would firstly like to thank Kip McClanaham without whose spiritual advice and financial guidance you would not be holding this music in your hand, John Tehranian for your legal advice and your handsome looks, David Rundle for advice far above accountancy, an expert on our music whose opinion we can personally trust! Kevin L. Keller for getting us this far at all.
Peter thanks Michelle and Levi.
Ian thanks Georgie, Ruby and Hugo.
timEbandit thanks all @ Eagle St for patience and belief.
Thanks to Ted "Ride Finger" Howard, Garth Porter and Rancom Street Studios, Apogee, Esp. Michael Horn, Seb Chase and his first-rate team at MGM, Joe Segreto/IMC, Lloyd Shawn Epperly and John Cole, Stephen Wade at Select and Brett Oaten Solicitors.
Thank you to Heath at Fender Guitars, Taylor Guitars, Maton Guitars, Blackstar Amplification (James and all at National Audio), Mapex Drums - (Joe Hibbs - ELFA-Chris Appleton and crew), Meinl Cymbals - (D'Addario Australia), AMI, Matts Guitar Service and Chris Melville.
The band wish to thank and acknowledge 'Support Act' for all they do in helping our fellow musicians.
www.thechurchband.net
www.facebook.com/thechurchband
www.twitter.com/thechurchband
Releases
(rev. Jan. 27, 2019)
CD - Unorthodox UNO011 (Australia) - Oct. 17, 2014
CD - Unorthodox UNO011 (USA) - Feb. 3, 2015 - Available at Amazon
CD - Unorthodox UNORTH1CD (UK & Europe) - June 8, 2015
  Includes the following bonus tracks

(click a title for details)

Marine Drive

(3:37)

 –  /
The Girl Is Buoyant

(3:51)

 – 
Xmas

(5:34)

 –  /

CD-R - Unorthodox [no catalog number] (UK & Europe Promo) - PVC wallet with color paper insert - with Bonus Tracks above
    Insert lists 12 tracks, CD lists 14 tracks but has both Love Philtre and Globe Spinning listed as track 6 (15 actual tracks).
2LP - Unorthodox UNOV011 (Australia) - Gatefold, 180 Gram Vinyl - Jan. 12, 2015
 Tracks

(click a title for details)




 Side One

 Side Two

Toy Head

(6:33)

Old Coast Road

(4:21)

Globe Spinning

(5:57)

 Side Three

 Side Four

2LP - Unorthodox UNORTH1LP (UK & Europe) - Gatefold, Clear Vinyl - June 29, 2015
Tracklisting identical to Unorthodox UNOV011 LP above. Comes with CD version (UNORTHCD1) with bonus tracks listed for that above.
Digital Download - Unorthodox (Australia) - Oct. 17, 2014 - Available at Apple Music (Australia)
Digital Download - Unorthodox (Australia) - Feb. 3, 2015 - Available at Apple Music (USA)
Notes
Those who pre-ordered this album received an instant download of "Pride Before A Fall" plus the downloadable bonus track "The Girl Is Buoyant" on the release date of Oct 17, 2014.
Steve Kilbey wrote the following about this album on his blog on May 18, 2014 ("on track"):
meanwhile the churchs record is very near completion
it will comprise of fifteen tracks
7 of which are now mixed and ready to go
it is nothing like you or i think it will be
it is complex ambiguous and joyful
your preconceptions will be shattered
something new has emerged
i am quietly confident this album will be universally acclaimed
within its own sphere of references naturally
within its own genre it is a triumph
some advertisements say
obey your thirst
i obey the music
that was trying to come into this existence
with myself as part of a team dedicated only to the music and the music only
we are deemphasised as personality x and y
none of you will know who did what and who was the driving force
because all four elements strove together for the musics sake
the music became the all
the song was everything not the singer
my mission in this life has been to make people happy with songs
then this will put a smile on your mind
because we have experts here tinkering with the mechanisms of rocknroll
we have experience and enthusiasm and we
have made a fucking good record
despite everything
time has come for a reassessment of the b®and the church
we poured heart and soul into this
i channelled other voices who came rushing out my throat
i cant wait for you to hear it
let the naysayers say nay for now
lets hear them after they hear the fucking thing
or my name isnt..uh...
fuck
anyway just a few months longer
further/deeper than ever before
Steve added the following short description about this album on his blog on May 31, 2014 ("where it's all at"):
further/deeper is its own cosmos
it picks up from U23 and it accelerates outwards
it contains big epic numbers
and it contains pure pop songs
templates of jingle jangle masters
it contains oddities and novelties
it contains some huge thumping things
it will surprise you baby oh i promise you that
Steve wrote more about this album on his blog on these dates in 2014: Sept. 17 Oct. 8 Oct. 12
The cover photo is a version of the Richard Bruxner photo louvre drop 1.
Reviews & Comments