EMI UK HEYDAY PRESS RELEASE
[Reproduced with typos/misspellings/run-on sentences intact.]
THE CHURCH
HEYDAY

Release Date:- 27.5.86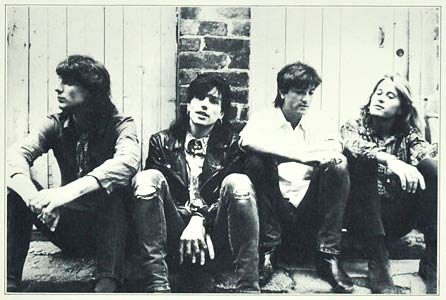 The Church are an Australian 4 piece who up to 1985 had recorded 4 albums for Carrere through WEA. EMI Australia signed them 9 months ago and this new Pete Walsh produced album which is already out in America and Australia has received some phenominal reviews.

The Church have recently completed a 20 day tour of the US with Echo and the Bunnymen. They arrive in Europe at the end of April and do 2 nights at the Marquee May 12th and 13th. They then go back into Europe and will return here in June for another 12 dates spread around the country.

They have a strong cult following here and we believe that the first single "Tantalized" from this album will bring them chart success and substantially greater album sales.

This single is released on April 28th. While they are here in May they will do music press and radio interviews.

The album release will be backed up with music press ads, instore display material and flyposters.

The Church was formed in 1980 by Steven Kilbey and Peter Koppes in Sydney, Australia, after having made some demos together. Drummer, Nick Ward, was recruited and as a trio they played a few low-key gigs until they met Marty Willson-Piper who was brought in to expand the group's guitar capabilities. The Church was soon after signed by ATV Northern Songs to a publishing and recording deal and they released their debut single "She Never Said" in November 1980 through EMI Records. Although that single had little success, the next one, "The Unguarded Moment" went on to become a national top ten hit, and in the bands home country the album "Of Skins And Heart" (produced by Chris Gilbey and mixed by Bob Clearmountain) went gold!

During 1981, the band parted company with Ward and took on drummer Richard Ploog and the line-up remains unchanged today. Despite a hectic touring schedule, the band recorded a double single "Too Fast For You" which came out in mid 1981 and then in August of that year they made their second album "The Blurred Crusade" which was produced by Bob Clearmountain and The Church. This album was often considered the definitive Church album. It subsequently went gold in Australia and the single "Almost With You" went top twenty. In September 1982, The Church toured Scandanavia, Europe and Britain where both albums had some commercial and much critical success. They returned at the end of that year to Australia, where an EP of demos was released entitled "Sing-Songs".

In January 1983, the band recorded their third album, the dense and intense "Seance". Although not as successful as previous albums, "Seance" did, however, yield two minor hits - "It's No Reason" and "Electric Lash" and spent many months hovering in the upper reaches of the English Independant charts. The band toured Australia and New Zealand for the rest of the year. In January 1984, they recorded another EP "Remote Luxury" and then in June "Persia".

In 1984 Warner Brothers, in America, unable to ignore The Church's burgeoning cult status and influence on the new 'guitar' movement, signed The Church and released an album "Remote Luxury" consisting of the latest two Australian EP's. The Church toured the U.S. in the last part of 1984 to unanimous good reviews and packed venues and the album enjoyed considerable airplay on the influential college network and excellent reviews from the press.

The Church have now recorded their first album for some two years - "Heyday" produced and engineered by Peter Walsh, will be out later in the year on Parlophone, with a single "Tantalized" taken from the LP released on April 28th.

For further Information please contact:

SUZIE ROME/MURRAY CHALMERS
Parlophone Press Office
20 Manchester Square
London W1

Tel: 01 486 4488

11th April 1986