MAN WOMAN LIFE DEATH INFINITY (2017)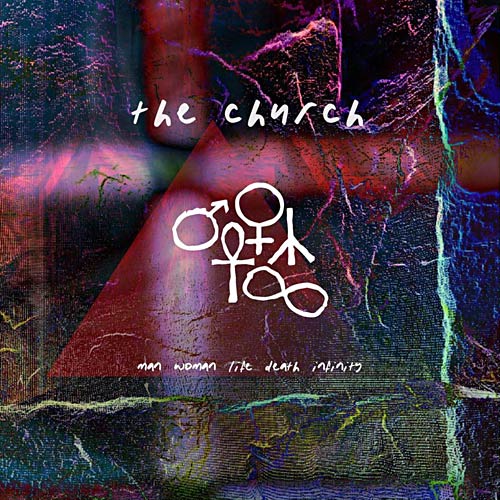 Credits
the church are
   steven kilbey. bass guitar, fender 6 guitar, keys, lead vocals
   peter koppes. acoustic and electric guitars, keys
   timebandit powles. drums and percussion, backing vocals, keys
   ian haug. acoustic and electric guitars, keys

   with amanda kramer. additional keyboards and backing vocals
all songs written and performed by the church
recorded at rancom studios mid 2017
engineered by ted howard
mixed by ted howard at pigs and apples
produced by ted howard and the church
mastered by don bartley at benchmark
sketches and shapes at airlock studios (engineer konstantin kersting)
  spacejunk studio (engineers ted howard and timebandit powles)
all artwork by eden mulholland @fauxitalic.com
executive producer. kevin lane keller
management. keith haganskh music
agent.  stephen wade — select music australia
ryan farlow paradigm music usa
business management. kristin lee
website. thechurchband.net
the church would like to thank
john tehranian, david rundle, kip mcclanahan, keith hagan, kristin lee
michael and sebastian chase, mark bolton, stephen wade and all at select
ryan farlow, ward, brie, gary, smithers, reid, george kazepis, eden mulholland
konstantin kersting, lloyd, ross, aaron, craig wilson.
especially big thank you to ted howard for going further
deeper, beyond infinity and making it out alive.
a special thanks again to kevin lane keller for your belief beyond belief.
peter would also like to thank — michelle, taylor acoustic guitars
fender guitars, gretsch guitars, maton electric guitars
blackstar amplification and roland corporation.
ian would also like to thank — ross malloy, vase amps, orange amps
the pedal empire, matts guitar service, ruby and hugo.
steve would like to thank all his friends and family
who indulge him in all this malarkey.
tim also thanks the eagle st gang, mapex drums usa, chris and all at
electric factory, meinl cymbals, simon and all at roland
hugo for the magic drumkit lend #1 for being there
...and the mountain for inspiration.
Releases
(rev. July 25, 2020)
Notes
Steve wrote about this album on his Blog, and gave a brief track-by-track rundown on August 23, 2017.
Reviews & Comments