ACOUSTIC SERMON (1995)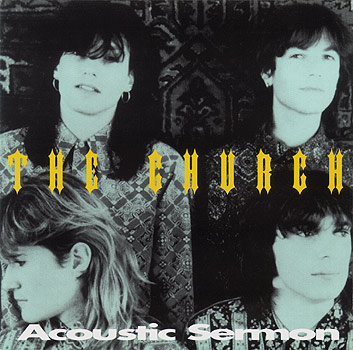 Tracks
Hotel Womb

(5:46)

 – 
Providence

(4:22)

 – 
Myrrh

(2:58) (mislabeled as "Happy Hunting Ground" on back cover)

 – 
10,000 Miles

(3:17) (mis-titled as "10,000 Miles Away" on back cover)

 – 
Under The Milky Way

(4:38)

 – 

Antenna

(3:30)

Spark

(3:36)

Fly

(2:46)

Bel-Air

(3:41)

Jam / Tristesse

(8:18)

Oh Stockholm

(0:14) (mislabeled as "Church Chant" on back cover)

A Month Of Sundays

(3:50) (mislabeled as "No No No" on back cover)

Under The Milky Way

(4:00)



Metropolis

(5:01)

Dancing Barefoot (4:11) (Patti Smith cover)
Tracks 6-15 are listed as "Bonus Tracks."
Tracks 1-5 Live in San Diego, CA, June 12, 1994 (Open Air Theatre, San Diego State University - Steve Kilbey & Marty Willson-Piper only).
Tracks 6-13 Live in Santa Monica, CA, March 24, 1988 (KCRW "SNAP" broadcast, hosted by Deidre O'Donoghue).
Tracks 14-15 Live at the Navy Pier, Chicago, June 23, 1990 (mislabeled as June 30, 1990).
Releases
CD - Home Records HR6051-6 (Italy)
Notes
Includes this paragraph about the band inside the booklet:
The Church broke out of Australia and demanded attention throughout the world in the early 1980's. In 1986, the Church fell one step short of adorning America's youth in paisley with their brilliant "Heyday" LP. However, 1988's Starfish and its successful supporting tour with Let's Active accomplished this feat. In 1990, the Church suffered the first loss of one of its founding members when drummer Richard Ploog left the band, and in 1994 saw the loss of yet another, guitarist Peter Koppes. The member changes have led to a varied Church sound, but the masterful writing still remains with the current line-up: Steven Kilbey and Marty Willson-Piper. Mama has cooked up some acoustic delights for you this time: a performance from 1994 showcasing the new two member line-up, a performance boasting the original four member band (and in very good spirits I might add), and some bonus cuts from 1990 displaying the replacement drummer in a plugged performance.
Reviews & Comments