AUSTRALIAN HITS OF THE 80'S (1989)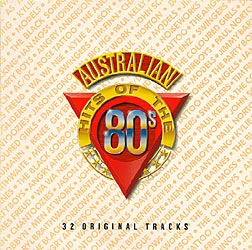 Tracks
Record/CD One
LP 1 - Side 1:
One Summer - Daryl Braithwaite
Rock And Roll Music - Mental As Anything
Locomotion - Kylie Minogue
Barbados - Models
I'd Die To Be With You Tonight - Jimmy Barnes
Chained To The Wheel - The Black Sorrows
Trust Me - I'm Talking
Tucker's Daughter - Ian Moss
LP 1 - Side 2:
Touch - Noiseworks
He's Gonna Step On You Again - The Party Boys
Suddenly - Angry Anderson
Under The Milky Way - The Church
You Shook Me All Night Long - AC/DC
We Can't Be Beaten - Rose Tattoo
We Gotta Get Out Of This Place - The Angels
Hurricane - James Freud
Record/CD Two
LP 2 - Side 1:
Stimulation - Wa Wa Nee
Especially For You - Kylie & Jason
Heaven - Eurogliders
Six Months In A Leaky Boat - Split Enz
Counting The Beat - Swingers
Fraction Too Much Friction - Tim Finn
Witch Queen - Chantoozies
Nothing Can Divide Us - Jason Donovan
LP 2 - Side 2:
Breakaway - Big Pig
To Her Door - Paul Kelly & The Coloured Girls
Slice Of Heaven - Dave Dobbyn
Who Can It Be Now? - Men At Work
I Was Only 19 - John Schumann & Redgum
Say I Love You - Renee Geyer
Run To Paradise - Choirboys
Stuck On You - Paul Norton
Releases
2LP - CBS 465846 1 (Australia)
2CD - CBS 465846 2 (Australia)
Notes
Contains this write-up on The Church:
From the release of the She Never Said single in November 1980, unique Sydney entity The Church has purveyed a distinctive, ethereal, psychedelic-touched sound which has alternatively found favour and disfavour in Australia but ever-escalating acclaim in the United States. The prestigious Los Angeles Times described Starfish, the sixth Church album, as "Dense, shimmering, exquisite guitar pop". Reviews like these kept the album on the Billboard charts for six months and helped them reach number one on the U.S. Alternative and AOR charts with Under The Milky Way.
An accompanying video collection was also released.