FMQB MODERN ROCK SUPER SAMPLER VOL.III/#3 - May 1994 (1994)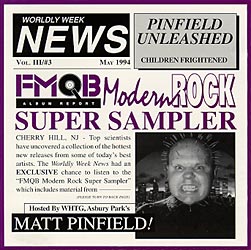 Tracks
WHTG Aircheck

(0:49)

Introduction

(0:54)

- Matt Pinfield
Biscuts For Smut

(2:55)

- Helmet
Hey!

(Edit) (4:13)

- Boingo [formerly Oingo Boingo]
Two Places At Once

(Edit) (4:25)

- The Church
Intermission

(0:56)

- Matt Pinfield
Dead Before I Was Born

(3:02)

- Fury In The Slaughterhouse
Unnatural

(3:36)

- 700 Miles
Off The A List

(4:50)

- Surgery
Intermission

(0:54)

- Matt Pinfield
Someone To Talk To

(4:20)

- The Devlins
Lenny Valentino

(2:21)

- The Auteurs
Rapture

(3:47)

- Seed
Intermission

(1:37)

- Matt Pinfield
The Sun Does Rise

(4:24)

- Jah Wobble & The Invaders Of The Heart
Girls And Boys

(4:19)

- Blur
Element Of Doubt

(4:31)

- The Elastic Purejoy
Releases
CD - FMQB Album Report FMQBMR33 (USA Promo) - May 1994
Notes
Contains this brief write-up:
For nearly 14 years, Steve Kilbey and Marty Willson-Piper have been at the center of The Church's activity, along with Peter Koppes who has left the band to pursue other musical avenues. "Two Places At Once" is taken from the forthcoming Sometime Anywhere, and is a duet between Kilbey and Willson-Piper. "Steve and I jammed the song onto tape and then went away and wrote separate lyrics," says Marty of the song. "...It turned out we had different ideas about what the song we had written was about. The great thing about it, I thought, is that the lyrics really work together very well." See for yourself...
The Introduction and Intermissions feature commentary by Matt Pinfield, from FM106.3 WHTG, Ashbury Park, New Jersey.