NICOLE ATKINS
NICOLE ATKINS DIGS OTHER PEOPLE'S SONGS (2008)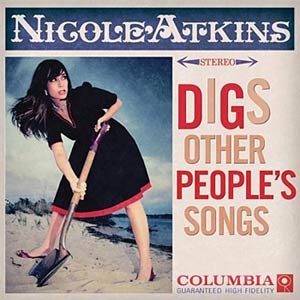 Tracks
Under The Milky Way (4:17) [The Church song] –  / /
Crystal Ship (2:48) [The Doors song]
Dream A Little Dream Of Me (2:48) [Mama Cass Elliott song]
Inside Of Love (4:03) [Nada Surf song]
Releases
Digital Download - Columbia (USA) - Sept. 9, 2008 - Available at Amazon and Apple Music
Notes
An MP3 of her cover of Under The Milky Way was available for a time at stereogum.com. Here's their brief interview with Nicole about the songs on this EP:
How did you decide to cover "Under The Milky Way"? Do you have a specific personal association or emotional connection with the original? Or did you simply like the track and decide to put your stamp on it? That said, what do you think your cover adds to the Church's take?
This was my favorite song in high school. This radio station in my town, 106.3, used to play it all the time. It was one of the first songs I learned how to play on the guitar too. After all these years it's still something I will listen to on repeat so I figured I should cover it for this EP. When we covered it, we tried to make it sound a little sweeter and darker. A bit evil but pretty. Which is what my band and I try to do with all my songs in general, I guess.
The EP's track list is interestingly varied: the Doors, Mamas & the Papas, Nada Surf, and this one. Is there a connector or central theme to these selections? Any tracks you left off that might show up somewhere else in the future?
It's just a little collection of love songs. Different themes in love, lust, romance, loathing and longing. I listen to a lot of different music so it's natural for me to have a lot of different genres represented, but I think that the covers have a distinct unified sound. There's a lot of songs I cover that could always end up somewhere else. I love doing covers from other people like Patti Smith, Gram Parsons, The The, Fleet Foxes, and Love to name a few. Who knows.