AVENTINE
UNDER THE MILKY WAY (2005)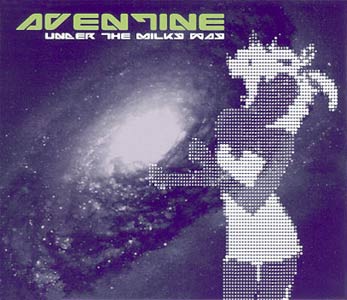 Under The Milky Way (D-Code TechTrance Mix 7") (4:06)
Under The Milky Way (Mike's Club Mix 7") (4:28)
Under The Milky Way (AVT Disco Remix 7") (4:27) – 
Under The Milky Way (Album Version 7") (4:42)
Blood (4:15)
Under The Milky Way (D-Code TechTrance Mix 12") (6:10)
Under The Milky Way (AVT Disco Remix 12") (6:29)
CD - Gorilla Music/Shock Records Gm5003 (Australia)
Credits
Produced by Glenn Oakes and Renee Hibbert.
CD Artwork by Glenn Oakes. Compiled by DW Norton.
Aventine is Glenn Oakes and Renee Hibbert.
Notes
This review was posted to inthemix.com.au:
Created On January 21st, 2006 by Vocal Assault
Aventine are a new electronic duo, made up of singer/songwriter Renee Hibbert from Newcastle (NSW) and Melbourne writer/producer Glenn Oakes (a stalwart on the Melbourne indie alternative punk scene).
Under The Milky Way is the first taste of what's to come fro the unlikely duo, and what better way to captivate us all, than to cover a gorgeous piece of classic pop from The Church's back catalogue?
And the results? Think of something that's quite fittingly placed between the likes of Delerium's musical expeditions with Sarah McLauchlan, Decoder Ring's recent works with songstress Lenka or even a bit of Massive Attack and you'll be thinking in the right direction.
As the beats build and chug away, Renee's red-wine fuelled voice, sweet but with a nice underlaying strength, lifts the track right up to a radio-friendly level and the results are divine.
As long as you stick to the D-Code Techtrance 7" Mix, you'll be right. There's just something a little lost, over-polished, or overworked on the other mixes for me as they get lost in a bit of a commercial club-land and fail to deliver the perfection put forth to us on the first mix we're exposed to.
In all, this is a new duo to watch out for, it'll be exciting to see where they can take us next with their debut, at this point things look promising, so long as they don't let too many cooks in the kitchen to serve the results.
11HOURS34MINUTES (2005)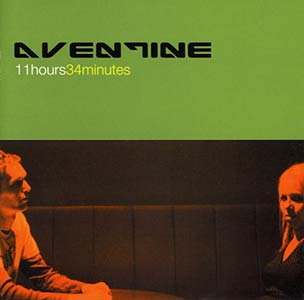 Tracks
Black The Sun

(4:46)

Slip Through My Fingers

(4:05)

Under The Milky Way

(4:42)

Blood

(4:15)

Underneath

(5:35)

Inside Out

(4:37)

Warm And Slow

(4:01)

Hold My Breath

(4:06)

Fight The Tide

(5:17)

Opendoor

(5:46)

Undone

(4:07)

Under The Milky Way (D-Code Tech Trance Mix 7") (4:06)
Under The Milky Way (D-Code Tech Trance Mix 12") (6:11)
Black The Sun

(D-Code Remix) (4:53)

Fight The Tide

(AVT Epic Remix) (4:15)

Under The Milky Way (Mike's Club 12" Mix) (6:31)
Credits
All tracks written, performed, recorded and produced by Renee Hibbert and Glenn Oakes
except "Black The Sun" with D-Code and "Open Door" with Sipher
Guitar performances by Grant Porteous and Steve Mileham
"Under The Milky Way" was originally performed by one of our favourite bands, The Church, and written by Kilbey/Jansson
Published by Universal/MCA/Cambell Connelly
Remixes produced by Richard Hinkson (D-Code), Topher (Sipher), Glenn (AVT) and Mike Felks
Cover and booklet designed by Glenn Oakes
Photography by Yvette Sittrop
Mastered by Mark Rachelle
Compiled by DW Norton
Releases
CD - Gorilla Music/Shock Records GM002 (Australia) - Nov. 14, 2005
Digital Download - Gorilla Music/Shock Records (Australia) - Mar. 8, 2012 - Available at Amazon
A mix of their version of "Under The Milky Way" appears on:
ULTIMATE CHILLOUT (2005)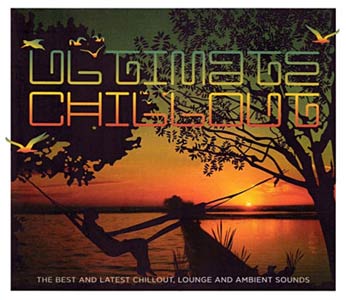 Tracks
CD 1:
Koh Phangan

(Piano Version)

- Steven Maverick
Facing South - Skye
You Won't Forget About Me

(Afterlife Lounge Remix)

- Dannii Minogue vs Flower Power
On And On

(Piano Version)

- Yanou Presents Do
Under The Milky Way (Mark's Chill Mix) - Aventine
Higher

(Acoustic Version)

- Emaar
Holding On To Nothing

(Chillout Mix)

- Agnelli & Nelson Featuring Aureas
Sunlight

(Bossa Nova Vibes)

- DJ Sammy
Nude

(Chill Mix)

- Plasm
Live To Love - Skye
We Belong - ATB
Ibiza Sun (Get Down) - Hauser
Ur - Tiësto Featuring Aqualung
T.T.C. - Rank 1
Cape Town - Marc Et Claude
CD 2:
Light A Rainbow

(Almadrava Mix)

- Tukan
The Reel - Mr Jigga
100 Billion Stars - Lux
Cosmic Feelings

(Horny Mix)

- Opolopo
Blow Your Mind - Omni Fields Feat. Kya
Remote - Postcard
Maybe Someday - Malou
Laserbeam Butterfly - Marc Et Claude
Everything Is Wrong - ATB
I Believe It (Olo Lipis) - Despina Vandi
Husan

(B.F. & I Scale Mix)

- Bhangra Knights vs Husan
S.O.S.

(Transluzent Miami Edit)

- A'Studio Feat. Polina
New Day - Christopher Lawrence
Janeiro

(Chiller Twist Blue Line Mix)

- Solid Sessions Feat. Pronti & Kalmani
Running With The Devil

(Buscemi Remix)

- Puddu Varano
CD 3:
Departure Lounge - Dalminjo
Starlight - Dead Composers
Get High - ATB
Secretly Watching Me - Hi Fi Mike
Such Is Life

(Sunday Afternoon Rework)

- Rank 1
Cha-Ka-Too

(Sunset Mix)

- Hibiki Connection
Isla Margherita - Eric Del Mar
Shades Of Blue - Skye
Winter Jam - The Underdog Project
Touch - James Street
Waterfall - 4 Strings
Naturally - Slow Train
The Sun (Goes Down)

(Chillout Mix)

- CJ Stone
Alright

(Raffa Lounge Mix)

- Red Carpet
Til The Morning Light

(Popmix)

- Madman
CD 4:
Set Adrift - Sea Turtle
Cloud Ballet - Body Matrix
Air Glide - Internal Alleviators
After The Fact - Awakening Phoenix
Down The Trodden Path - Alex Trentham
Distant Calm - Soothsayer
L'amour Du Soleil - Quazimodo Sound Consortium
Dance In The Sierra - Solar Moon
The Song Of Strings - The Circle Effect
Lovers Dream - Mother Of Pearl
Nomadic Luxury - The Bedouins
Natural Law - Yorgen Hallenzord
The Bells Of The Anchor Palace - Quazimodo Sound Consortium
Water Massage - Story Of Tranquility
Wind Music - The Circle Effect
Releases
4CD - Central Station CSRCD5255 (Australia) - April 25, 2005
FITNESS FIRST CHILLOUT (2007)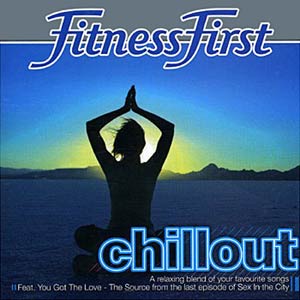 Tracks
Walking Away

(Album Version) (6:37)

- The Egg
In Love With You

(Tranquilo Remix) (4:41)

- Atrium
Heaven

(Yanou's Candlelight Mix) (3:55)

- DJ Sammy & Yanou Feat. Do
We Belong

(Album Version) (4:02)

- ATB
Under The Milky Way (Mark's Chill Mix) (3:34) - Aventine
Alright

(Raffa Lounge Mix) (7:25)

- Red Carpet
Winter Jam

(Radio Edit) (3:23)

- The Underdog Project
The Cure & The Cause

(Balearic Soul Remix) (4:00)

- Fish Go Deep Feat. Tracey K
S.O.S.

(Transluzent Miami Edit) (5:47)

- A'Studio Feat. Polina
I Can't Sleep At Night

(Afterlife Remix) (5:39)

- Dannii Minogue
Such Is Life

(Sunday Afternoon Rework) (3:23)

- Rank 1 Feat. Shanokee
Moonlight Party

(Moonlight Chill Mix) (2:57)

- Fonzerelli
UR

(Album Version) (5:55)

- Tiesto Feat. Aqualung
You Got The Love

(Now Voyager Mix) (5:42)

- The Source Feat. Candi Staton
Waterfall

(Album Version) (5:49)

- 4 Strings
Everytime We Touch

(Yanou's Candlelight Mix) (3:21)

- Cascada
Releases
CD - Central Station CSRCD5431 (Australia) - June 4, 2007