JAMES BLUNDELL
CROSSING THE TRACKS (2004)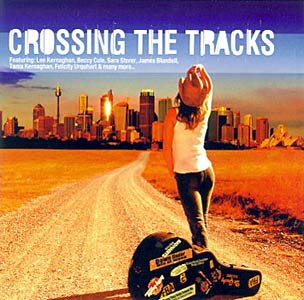 Tracks
Down Under

(3:30)

- Lee Kernaghan
Truly, Madly, Deeply

(4:10)

- Travis Sinclair & Camille Te Nahu
One Perfect Day

(3:44)

- Sara Storer
Eagle Rock

(3:45)

- Sovereign
Pleasure & Pain

(3:48)

- Beccy Cole
Unguarded Moment

(3:21)

- James Blundell
Throw Your Arms Around Me

(3:32)

- Felicity Urquhart
Bad Habits

(3:21)

- Feral Swing Katz
Shakin' All Over

(2:47)

- Travis Sinclair
Tenterfield Sadler

(3:56)

- Tania Kernaghan
Miss You Love

(3:36)

- Jake Nickolai
Great Southern Land

(4:09)

- Lee Kernaghan & James Blundell
Releases
CD - ABC 14052 (Australia) - Oct. 11, 2004
Notes
Press Release
28/10/2004
And no one could be better suited to such a task. After all, Garth's career has spanned both genres over close to three decades.
The result is Crossing The Tracks, an album featuring leading country artists and rising stars, and some of the true classics of Australian music from the past four decades. "The title is meant to convey the idea of crossing boundaries, both musically and culturally," Garth said.
Garth was part of the heyday of Australian pop music as a member of the hit band Sherbet, and his talents as a writer and producer have played a major part in the burgeoning contemporary country scene over the last decade or so with artists like Lee Kernaghan and Sara Storer.
"Australia has a rich heritage of popular music. The songs of our artists have resonated across this land in a unique way," Garth said, "defining the period and our culture. I've been thinking for some years about an album like this, with contemporary country artists performing songs from mainstream music, reinventing them in their own individual styles and giving them new life.
"The aim of this project was to bring something new, something fresh, to tracks that are already well known and much loved. And the finished album has succeeded even beyond my expectations."
Crossing The Tracks includes songs like Peter Allen's Tenterfield Saddler, The Divinyls' Pleasure And Pain and Icehouse's Great Southern Land, all taking on a new perspective and given a new lease of life.
The album kicks off with the classic Aussie anthem of the 1980s, Down Under, performed by Lee Kernaghan. Lee also joins forces with James Blundell on a duet Great Southern Land, then James "lets rip" on Unguarded Moment from The Church.
Highlights of the album include multi Golden Guitar winner Sara Storer's version of One Perfect Day - which is to be released as the first single - along with Beccy Cole's version of Pleasure And Pain and Felicity Urquhart's rendition of Throw Your Arms Around Me. And Tania Kernaghan's interpretation of Tenterfield Saddler.
Several newcomers have lent their talents to Crossing The Tracks, with 2003 New Talent Golden Guitar winner Travis Sinclair singing the oldest track on the album, Normie Rowe's Shakin' All Over, and also teaming up with Camille Te Nahu on the Savage Garden hit Truly, Madly, Deeply.
Camille also fronts her regular band, the Feral Swing Katz, for a rendition of Billy Field's jazz pop hit Bad Habits. Young singer/guitarist Jake Nikolai presents his own take on Silverchair's Miss You Love, while Sovereign pay tribute to Daddy Cool with their version of Eagle Rock.
A STATE OF THE HEART: AUSTRALIA SALUTES ITS OWN (2011)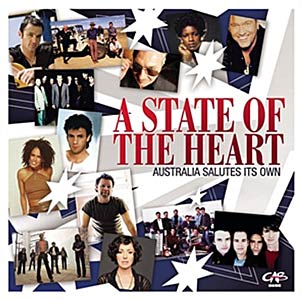 Tracks
CD 1:
State Of The Heart

(4:03)

- Rick Springfield
When The War Is Over

(5:09)

- Little River Band
Throw Your Arms Around Me

(3:55)

- Crowded House
What About Me

(3:21)

- Shannon Noll
Age Of Reason (Live At The Regent)

(4:51)

- Ross Wilson
I Hope I Never

(5:31)

- Tina Arena
My Island Home

(4:10)

- Christine Anu
Tenterfield Saddler

(3:31)

- Rick Price
A Little Piece Of Peace

(3:15)

- Graeme Connors
Reckless

(4:01)

- Paul Kelly
Way Out West

(4:01)

- James Blundell & James Reyne
Bow River

(4:39)

- Troy Cassar-Daley
Under The Milky Way

(4:56)

- Jimmy Little
Slippin' Away

(4:46)

- Catherine Britt & Max Merritt
One Perfect Day

(3:42

- Sara Storer
The Music Goes Round My Head

(3:45)

- The Saints
April Sun In Cuba

(3:44)

- Marcia Hines
St. Louis

(3:45)

- John Paul Young
Gonna See My Baby Tonight

(3:25)

- Jimmy Barnes & Nathan Cavaleri
CD 2:
The Real Thing

(3:33)

- Midnight Oil
It's A Long Way To The Top (If You Wanna Rock'n'Roll)

(4:12)

- John Farnham
I'll Be Gone (Live)

(3:32)

- John Williamson
You Just Like Me 'Cause I'm Good In Bed

(2:46)

- Missy Higgins
Black And Blue

(4:49)

- Jimmy Barnes
Wild About You

(2:37)

- The Saints
Know Your Product

(2:36)

- Hunters & Collectors
Wedding Ring

(2:04)

- The Sports
Someday

(2:30)

- The Sunny Cowgirls & Adam Brand
Unguarded Moment

(3:21)

- James Blundell
Forever Now

(3:30)

- The Reels
Hey St. Peter

(3:23)

- Choirboys
She's So Fine

(2:10)

- Thirsty Merc
Highway To Hell

(3:24)

- Angry Anderson & Sarah McLeod
Pleasure And Pain

(3:46)

- Beccy Cole
Choir Girl

(3:21)

- Katie Noonan
Wings Of An Eagle

(4:21)

- Crosby Sisters with Russell Morris
Come Back Again

(3:05)

- Anne Kirkpatrick
Lazy Life

(2:51)

- Glenn Cardier
The Carnival Is Over

(3:16)

- Nick Cave & The Bad Seeds
Releases
2CD - Sony Music Australia 88697781202 (Australia) - Mar. 11, 2011