THE GATELESS GATE
The Gateless Gate is an ambient/experimental/psychedelic music duo from Ontario, Canada.
MYRRH EP (2014)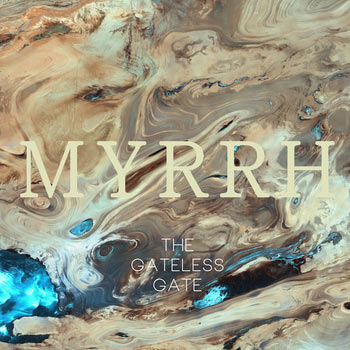 Tracks
nightmare descent into Jericho City

(3:00)

myrrh

(3:58)

 – 

camel dust heralds our arrival/with a dead sun shining on my back

(5:47)

their hollow laughter, the pain in their eyes

(5:00)

 – 
Credits
Allister Thompson: guitar, bass, sounds, voice
Teri-Lynn Janveau: piano, voice
Releases
Digital Download - Self-Released (Canada) - Aug. 26, 2014 - Available on Bandcamp
Notes
Info about this release from The Gateless Gate website:
This EP, released in August 2014, is based on a psych folk cover version of "Myrrh" by Australian psychedelic rock legends The Church, to whom we have been listening for over twenty years. The idea for the EP and basically its entire concept came to me literally in a dream as I dozed one morning, avoiding getting up. Despite never having released a cover version before, it seemed more like an order than a suggestion from my subconscious, so we complied.
The three accompanying instrumental tracks are all directly inspired by lines from the lyrics of the same song. These lyrics are the work of Steve Kilbey and are an excellent example of his much-admired poetic style. The style of the instrumentals is our customary Krautrock-inspired psychedelic ambient.
NOTE: Clearances for the song "Myrrh" have been paid and will continue to be paid. The composers of the song are: Steve Kilbey/Marty Willson-Piper/Peter Koppes/Richard Ploog.
Allister is also author of A Listener's Guide to The Church, A Listener's Guide to The Church, Part II and an exhaustive review of "Further/Deeper".