LIFEFARCE
DARK DAYS (2004)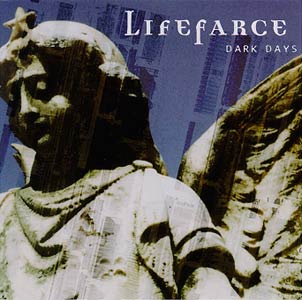 Tracks
Dark Days

(3:27)

Not So Pretty

(3:29)

Absence

(2:49)

The Unguarded Moment

(3:02)
Releases
CD - Rat & Sparrow Records RS0002 (Australia) - Feb. 16, 2004 - Available at Waterfront Records
Notes
Sleeve includes this photo of the band in action: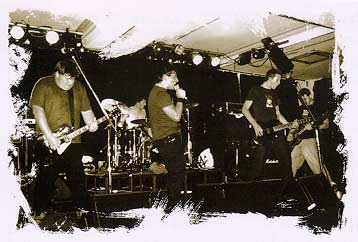 Short bio of the band at Waterfront Records:
Formed in Feb 2003, Lifefarce play a unique style of progressive melodic punk rock. With former members of Frontside and current members of Irrelevant, AVO and Betray The Day, Lifefarce have strong roots in underground punk and hardcore. After playing a string of shows in April at venues including The Hopetoun and The Annandale Hotel, they took some time off to tour with their other bands, and hit the studios coming out with an EP "Dark Days" released Feb 9th 2004 on Rat and Sparrow Records through MGM. They have been playing throughout the inner city circuit with such bands as Blueline Medic, In The Grey, Sans Chavelle and Draw The Line, delivering their explosive live performance to ever increasing numbers, their music becoming more and more the logical progression in the modern Australian punk and hardcore scene.
Influences include Mid Youth Crisis, Avail, Boy Sets Fire, Jimmy Eat World, Blueline Medic, AFI, Foo Fighters.