MIR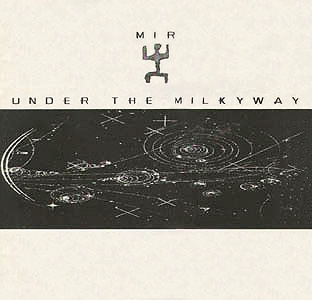 A-Side:
Original Album Version (8:23)
Cygnus X Long Version (6:13) – 

B-Side:
120 BPM Mix (3:40) – 
Space Ride Mix (6:41) – 
E.H.R. Mix (4:45) – 
12" - Eye Q Records/Recycle or Die ROD 9601 (Germany)
A-Side:
Cygnus X Long Version (6:13) – 
E.H.R. Mix (4:45) – 

B-Side:
Space Ride Mix (6:41) – 
120 BPM Mix (3:40) – 
12" - Eye Q Records America EQ-5007-1 (USA)
12" - Eye Q Records America EQ-5007-1 (USA) - hand-stamped white labels
Under The Milkyway (Cygnus X Mix)
12" - Eye Q Records America [no catalog #] (USA White Label DJ Promo) - Nov. 1996
WELCOME SPACEBROTHERS (1996)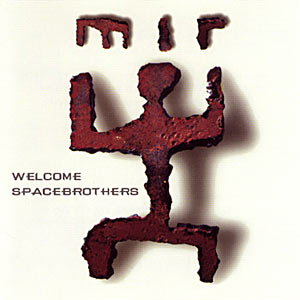 Tracks
Welcome Spacebrothers

(10:54)

Under The Milkyway

(8:23)

Unterwasser

(9:00)

Gloria

(6:20)

Come

(13:01)

Sarashima

(11:02)

Adieu Freres D'Espace

(5:32)
Releases
CD - recycle or die ROD 010 / Warner Music Germany RTD 302.5510.2 (Germany) - 1996 - carboard sleeve
CD - Eye Q Records EQ2010-2 (USA) - Feb. 25, 1997
Compilations with MIR's "Under The Milky Way" Cover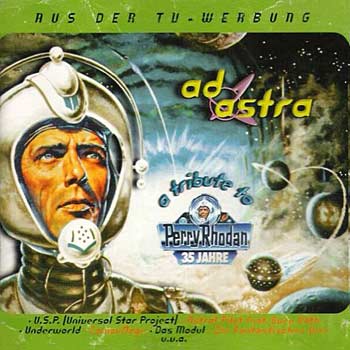 AD ASTRA - A TRIBUTE TO PERRY RHODAN (1996)
Tracks
Ad Astra, Perry

(5:54)

- U.S.P. (Universal Star Project)
Electro-Acupuncture

(9:30)

- Astral Pilot featuring Sven Vath
We Can Fly

(7:20)

- God's Groove
Die 4. Dimension [The 4th Dimension]

(4:33)

- Die Fantastischen Vier [The Fantastic Four]
Syracuse

(7:02)

- Pronoia
Kampf der Betriebssysteme V.1.04 [Battle Of The Operating Systems V.1.04]

(5:05)

- Das Modul [The Module]
Perry Rhodan In The Radio

(2:55)

- Carlos Peron, featuring Mike Adair
Planet Of Love

(4:33)

- Drop Dishes
Pearl's Girl

(9:36)

- Underworld
Under The Milkyway

(8:23)

- MIR
Spacetrain

(7:30)

- Camouflage
Der Kurze Weg [The Short Way]

(5:09)

- The Bionaut
Releases
CD - BMG/Ariola 74321 41482 2 (Germany)
Notes
This CD tribute celebrates the 35th anniversary of the German Perry Rhodan science fiction series. Learn more about Perry Rhodan at www.perry-rhodan.us.
PROMO ONLY: CLUB SERIES - JANUARY 97 (1997)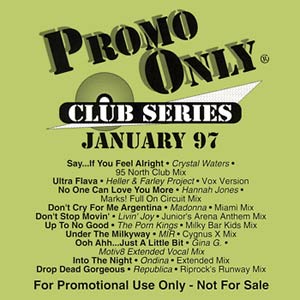 Tracks
Say... If You Feel Alright

[95 North Club Mix] (8:12)

- Crystal Waters
Ultra Flava

[Vox Version] (6:39)

- Heller and Farley Project
No One Can Love You More

[Marks! Full On Circuit Mix] (10:02)

- Hannah Jones
Don't Cry For Me Argentina

[Miami Mix] (6:54)

- Madonna
Don't Stop Movin'

[Junior's Arena Anthem Mix] (9:21)

- Livin' Joy
Up To No Good

[Milky Bar Kids Edit] (5:51)

- The Porn Kings
Under The Milkyway

[Cygnus X Mix] (6:13)

- MIR
Ooh Aah... Just A Little Bit

[Motiv8 Extended Vocal Mix] (6:41)

- Gina G.
Into The Night

[Extended Mix] (4:54)

- Ondina
Drop Dead Gorgeous

[Riprock's Runway Mix] (7:08)

- Republica
Releases
CD - Promo Only JAN97CLUB (USA Promo)
Their longer remix version of "Under The Milky Way" appears on:
BACKLASH: THE RECYCLE OR DIE COMPILATION (1997)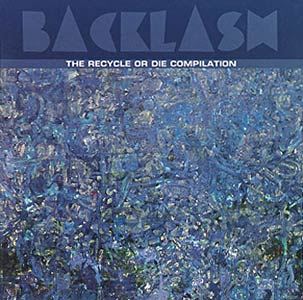 Tracks
Citation Collection

(6:32)

- Ralf Hildenbeutel
Befool

(6:16)

- B-Zet
From Afar

(6:34)

- MIR
The Moon And The Sun

(6:20)

- Solitaire
Under The Milkyway

[Elektronauten Featuring Noelle Remix] (10:00)

- MIR – 
La Lune De Miel

[Kraut As Kraut Can Remix] (6:00)

- #9 Dream
Isn't That A Funny Bird

[Alter Ego Remix] (6:30)

- Tollmann/Hildenbeutel
Jazzie

[Robert Görl Remix] (5:56)

- B-Zet
Inner Peace

[Out In The Fields Mix] (7:30)

- Ralf Hildenbeutel
Mimi's French Dog

[Taylor Dupree's Mix] (6:35)

- Tollmann/Hildenbeutel
Releases
CD - recycle or die ROD 011 (Germany)
CD - Eye Q Records America EQ2012-2 (USA)
Notes
Here's a review from AmbiEntrance:
The eerie synth warbles of Citation Collection by Ralf Hildenbeutel are soon bolstered by steady e-beats and dreamy guitar strums which blend into a smoothly whole. Mir's From Afar incorporates guitar strumming amongst its busy little D'n'B rhythms; Mir (this time remixed by Elektronauten Featuring Noelle) appears again with Under the Milkyway, wherein extremely faint female crooning is heard beneath a syncopated beat-barrage. Cool, dispassionate Eurodisco sounds emanate from La Lune De Miel, the Kraut as Kraut Can remix of #9 Dream's original.
Closing on the most truly ambient track, Taylor Deupree remixes Mimi's French Dog by Tollmann/Hildenbeutel into a pleasantly soft creature. The label is now defunct, but the disc is ceertainly worth picking up should you come across it. (8.3)
Their longer remix version of "Under The Milky Way" also appears on:
ELEKTRONAUTEN/MIR - I GO WITH YOU (1998)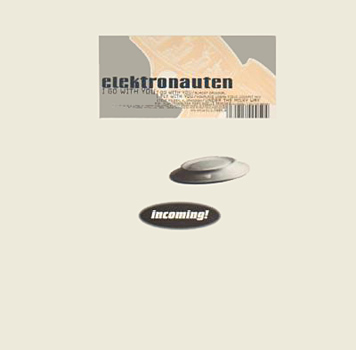 Tracks
A-Side:
I Go With You (Almost Original) - Elektronauten
I Fly With You (Cockpit Mix) (Nonplace Urban Field Remix) - Elektronauten

B-Side:
Under The Milkyway [Elektronauten Featuring Noelle Remix] (10:00) - MIR – 
Releases
12" - Incoming! Records INC!MS 005 (Germany)