IAN SIMPSON & JOHN KANE
BANJO AUSTRALIS: UNDER THE MILKY WAY (2013)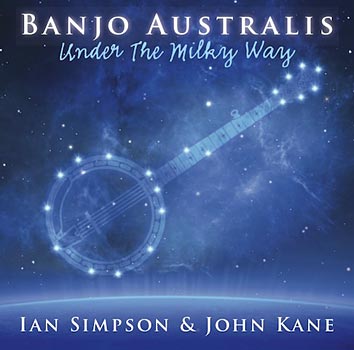 Tracks
Waltzing Matilda

(2:36)

I've Played Every Note (I've Been Everywhere)

(2:29)

Under The Milky Way

(3:56)

Snowy River Ride

(3:07)

Kookaburra Sits In The Old Gumtree

(3:19)

Friday On My Mind

(2:55)

Kangaroo Valley Ramble

(2:08)

Slim Dusty Medley: Pub With No Beer / When The Rain Tumbles Down In July / Lights On The Hill

(3:51)

The Dying Stockman

(2:07)

Torres Straight Island Tunes

(2:20)

Australian TV Medley: Rush / Skippy / Home Among The Gumtrees

(2:46)

Country Garden

(1:20)

Along The Road To Gundagai

(3:53)

The Seekers Medley: Bound For South Australia / With A Swag All On My Shoulder

(2:05)

She's My Baby

(2:22)
Releases
CD - ABC Music (Australia) - Aug. 9, 2013
Digital Download - ABC Music (Australia) - Aug. 9, 2013
Their cover of "Under The Milky Way" also appears on:
WELL I LOVE IT! MACCA'S AUSTRALIA ALL OVER (2014)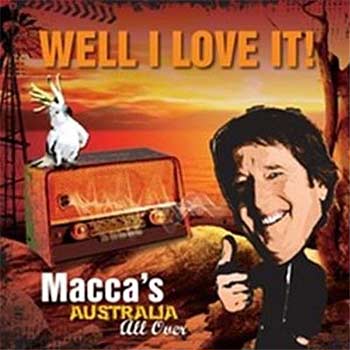 Tracks
CD 1:
Macca on a Sunday Morning

(2:10)

- Drew Forsythe
Crocodile River

(3:55)

- Stephen Pigram
I Get Along Without You Very Well

(3:02)

- Caitlin Smith
Boogie Woogie Bugle Boy (Boogie Woogie Yodeller)

(3:01)

- Mary Schneider
I Wonder Who You're Waiting For

(4:10)

- Mike McLellan
Waiting For The Ice To Thaw

(3:34)

- Mark Cryle
I Get A Kick Out Of You

(3:40)

- Gary Shearston
The Man With The Big Hat

(6:21)

- Ian McNamara and Digger Revell
La Paloma

(2:15)

- Phil Moran
The Great Divide

(3:23)

- Paul Wookey
The Days Of Old Khancoban

(2:46)

- Smokey Dawson and The Howie Brothers
Fear Of Failure

(3:54)

- The Basics
Beside A Railway Line

(4:21)

- Roger Ilott and Penny Davies
Lover Please

(2:21)

- Ian McNamara
CD 2:
Sunday With Macca

(2:22)

- Digger Revell
November

(3:55)

- Junior
Young Girls

(5:52)

- Don Walker
Days Like These

(3:04)

- Jane Saunders
She's A Classic

(2:51)

- Gary Shearston
Living Underneath The Southern Cross

(3:57)

- Normie Rowe
If Wishes Were Horses

(4:13)

- Doug Ashdown
Queensland

(4:16)

- Ron McIntyre
Under The Milky Way

(3:55)

- Ian Simpson and John Kane
Coolamon Moon

(4:06)

- Neil Murray
Whispers On The Wind

(4:24)

- Carmel Charlton
The Adelaide

(4:45)

- Michael Kennedy
The North Wind

(5:32)

- Ken McDonald's Billion Raindrop Band
We The People

(4:08)

- Ian McNamara
Releases
2CD - ABC 602537776115 (Australia) - Aug. 27, 2014
Notes
Marketing write-up:
Every Sunday morning, all over Australia, more than two million people tune into hear Ian "Macca" MacNamara on ABC Radio's long-running program AUSTRALIA ALL OVER. For over three decades the legendary ABC Sunday morning radio show has connected Aussies all over this wide brown land, and around the world. Following the huge success of Macca's Top 100 (plus reissue) comes "Well I Love It" - two CDs full of just that - a handpicked collection, some of Macca's favourites, your favourites, a celebration of singers and songwriters.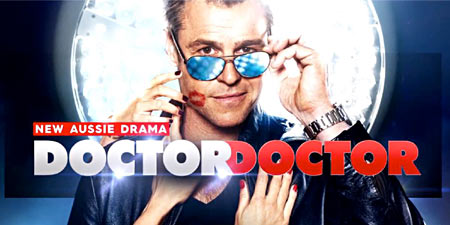 A portion of their banjo cover of "Under The Milky Way" appeared in an episode of the Australian TV series Doctor Doctor (aka The Heart Guy). The song was featured in episode 8 of season 2, which first aired on October 4, 2017. It begins around 24 minutes into the show and plays for just under 50 seconds.