A LOVELETTER TO SYDNEY (1998)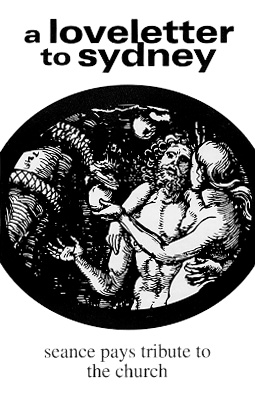 Tracks
Side A:
Fly - Michael Bromley, Australia
Maybe These Boys - Matt Blair, UK
A New Season - Kevin Gamble, USA
Into My Hands - James Dignan, New Zealand
Electric - Jörgen Kull, Sweden
Monday Morning - Thomas Kennedy, USA
Under the Milky Way - Andy Clements, UK
Tyrant - Paul Regelbrugge, USA
Something That Means Something - Dean Prescott, USA
Dome - Tony Nelson, USA
Tristesse - Ali Awan, USA
Side B:
O' Stockholm - Magnus Ring, Sweden
Warm Spell - Chuck Fields, USA
Violet Town - Jörgen Kull, Sweden
When You Were (Mine) In India - Gunnar Saebo, Norway
A Month of Sundays - Ali Awan, USA
Don't Open the Door to Strangers - Matt Blair, UK
She's King - John Micek, USA
The Time Being - Lars Christensen, USA
Hotel Womb - Matt Packham, Australia
Film - Alton Broussard, USA
Civil War Lament - Kevin Gamble, USA
Down - James Dignan, New Zealand
Credits
Tracks compiled and selected by Kevin Gamble
Compilation digitally mixed by Jim Piontkowski
Manufacture & printing by Martin Audio Duplication, Seattle, Washington
Sleeve design & poem by Kevin Gamble
Cover illustration ©1510 Albrecht Durer
Releases
Notes
These tribute songs were collected by Kevin Gamble mainly from Seance Mailing List members.
Insert contains the following poem by Kevin Gamble:
a loveletter
You're four, you're one, you're none. Sometimes everywhere,
then nowhere and everywhere again. We push past the hordes
and as their roar fades behind us we lean against our little
walls and listen for you. Outside it's all night and quiet and
dark, and slowly you come. We recline and breathe you in
and then we're gone.
One is the water and we submerge. A huge sky-sound, a
layered host of horizons, a dark dripping wet forest stretches
out beneath us as we fly on love-wings. An iridescent desert,
a cathedral on a luminous cloud calls us and a pipe organ
blares through the rolling sky. We drop our cup and fade...
Two is the fire and wind. You howl and burn, shake and tear.
Sunspots crowd our eyes and we see the ancient past blurring
before us. Woodcuts and winding decoration, ticking clocks
and delicate webs, icy landscapes and fire-warmed dens. You
shimmer and spin us in circles, we're small and thin...
Three whispers and seduces us, venom and honey mix in your
words. Serpentine smoke curls around us, our trance ends
and begins again. With elusive pen and six heavy strings you
weave worlds in sand, a fickle demigod apologizing to your
own invisible judge. We fawn and faint before the temple of
the great Elephant God as he takes his two little ones to school
in the crisp northern air...
Four is new and old, gone and here. Your face changes but
it's your drum that summons the others from their languid
limbos, through the gate, past the film to the present...
As the dream ends, an afterimage flickers and we ache for a
connection. From worlds far-flung we raise our voices to
thank the chance which brings us together and the small thing
that matters to us so very much. We collect these shiny
fragments and warmed, we thank you...
Reviews & Comments