THE BIG AUSTRALIAN ROCK BOOK (1985)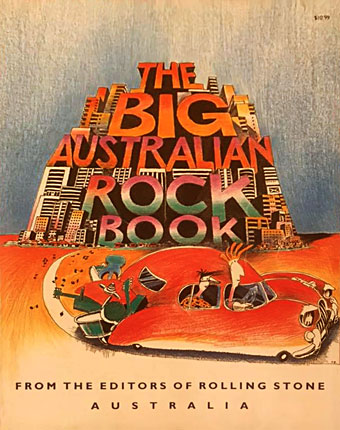 From the editors of Rolling Stone Australia. All about the pub music scene in Sydney, mainly, with an A-Z listing of bands in the back. Includes one page on The Church (see below).
Releases
Softcover, 168pp - Megabooks (Australia)
The Church

  Led by the mercurial and notably media-sensitive Steve Kilbey, the Church is the only Australian example of early-Eighties "new psychedelia" to achieve commercial success. Like countless other Australian groups, the Church is powerful evidence of the fact that Australian music lies squarely between the world's major rock music producers — Britain and America. Its music, an interesting distillation of the Byrds' jangling guitar style and vocal elements derived from Bolan and Bowie, is a potentially dynamic blend that sits outside the Australian music mainstream.

  The Church's success is not directly attributable to the pub circuit; part of a new generation, their rapid rise to fame can be traced to their popularity with viewers of Australia's powerful rock television program, Countdown.

  "One day we were no-ones with a single, "The Unguarded Moment," which had been out for a month without doing anything," says singer Kilbey. "Sunday night we were on Countdown and they actually put together quite a nice clip that worked. Next week our gig price jumped to about $700. For us it was like a classic overnight success story."

  Like young groups the world over, the Church's early history is tied to longtime teenage friendships (between Kilbey and guitarist Peter Koppes), a recognition that being in a rock band greatly enhances your sex life, a Teac four-track in a crowded front room, a few demos, some small-time gigs arranged through friends and a burning desire to recreate the music that had sent shivers up their spines. Unimpressed from the outset by Australian rock and pop, the Church have always been classic outsiders, and remain an object of distrust and resentment in some quarters. In 1980 the band landed a recording and publishing contract with EMI which led, after one unsuccessful single, to the recording of their debut album, Of Skins and Heart. Selling over 100,000 copies worldwide, garnering some very favourable press in Europe, and producing one classic single in "The Unguarded Moment," the Church's career began well. Unfortunately this success did not snowball, and despite constant touring in Australia, record deals in Canada and an excellent second album, The Blurred Crusade, the momentum to achieve international success appeared lost. A support to Duran Duran's 1982 tour of England was poorly received, and the band limped home to continue touring the Australian pubs.

  The Church's third album, Seance, released in 1983, only proved the inadequacy of the Australian music industry for coping with a group outside the good-time-drinking-music format. Contained in the group's neat parabola of success and failure is a dilemma which faces so many Australians who start on the pub circuit and aspire to bigger things. Kilbey explains the problem succinctly.

  "We're not rich. We have to tour constantly to make money. The record company in England paid a lot of money to put us on the Duran Duran tour, and lost that money, so they're not happy with us. What do we do? If we can't go overseas we have to stay here, and that's not so simple because having reached a certain stage we can't go back to playing smaller gigs, and to maintain credibility we have to keep the band on a fairly big scale, so we can only tour once every three months or so. We can't earn enough out of that to live on when we're not on the road, and we don't have enough record royalties to prop us up either. We don't want to break up but how do we keep going beyond a certain point?"

  An EP, Remote Luxury, was released in March 1984. By the middle of the year the Church's prospects had brightened considerably when the group signed a major record deal with Warner Brothers in America.