NO CERTAINTY ATTACHED: STEVE KILBEY AND THE CHURCH (2009)
by Robert Dean Lurie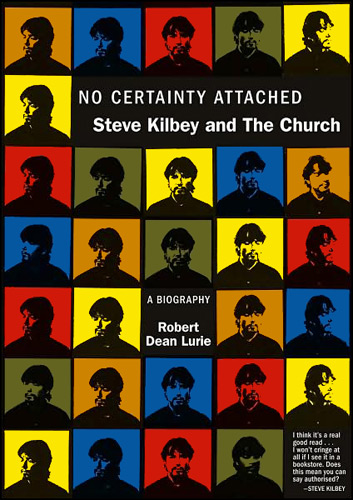 Synopsis from the Publisher
For almost thirty years, the Church have crafted music that blends a rich variety of styles in a beautiful, multi-layered sound. They've encompassed pop, psychedelic, progressive, and straight-ahead rock, yet always remain distinctive, thanks to the inimitable vocals and lyrics of front man Steve Kilbey. Based on extensive interviews and featuring over 70 rare photographs, No Certainty Attached is the first comprehensive biography of Kilbey and his band. It charts their personal and musical ups and downs: the commercial heights of "The Unguarded Moment" and "Under the Milky Way," the creative breakthroughs of the Priest=Aura album and Kilbey's underappreciated solo work, followed by the band's struggle to survive in the wake of bad business decisions and their singer's drug indulgences. One obsessive American fan attempts to get to the heart of the story, abetted by Kilbey himself, his family, band members, and friends and foes alike. What emerges is a compelling portrait of an artist and a band clinging steadfastly to their muse in the face of external and internal obstacles-and the transformative power of the music they've created.
Steve wrote his thoughts on this book in his blog The Time Being on Feb. 18, 2007 ("bios fear").
Releases
Softcover, 320pp - Verse Chorus Press, Portland, Oregon
ISBN-10: 1891241-22-2, ISBN-13: 978-1891241-22-2, 153mm x 218mm, black & white photos
Australia: June 5, 2009 / USA: June 15, 2009 / UK: July 2009
Advance Reviews
"It's already yesterday and I still remember the first time I heard 'For a Moment We're Strangers' back in '81. Sometimes stark and edgy, sometimes sumptuous and fragrant, yet always unique and enticing, the music of the Church helped to enrich my life in many ways. It certainly changed the life of Robert Lurie, who has written the definitive account of the Church and the life of its main protagonist, Steve Kilbey. This is more than just a band biography; it's also the personal journey of one Church fanatic, a journey to which we can all relate."
  –Ian McFarlane, author of The Encyclopedia of Australian Rock and Pop
"No Certainty Attached gives all one could ask for in a biography—an engaging and intricate subject, thoroughly researched; a panoply of riveting interviews; and, best of all, the author's own passion for lyrics, music and life."
  – Philip Furia, author of The Poets of Tin Pan Alley: A History of America's Great Lyricists
"Although a self-professed die-hard fan, Lurie remains stridently impartial in this skillfully balanced assessment of his musical idol, Steve Kilbey, the esoterically minded front man for the Australian rock band the Church. Into his noisy myriad of interviews with Kilbey and his circle, Lurie mixes his own personal journey as a fan, musician and first-time author, offering something to both Church devotees and the uninitiated. The result is a quietly and thoughtfully structured narrative that entertains as well as informs. Lurie provides sound musical analysis of the Church's touchstone albums as well as key Kilbey solo projects. Yet Lurie can also be too much the music critic, as his musical observations occasionally drag the narrative into pedantry. Rather than focusing exclusively on those elements of the biography that are fantastic or controversial, Lurie's interviews capture quite a bit of Kilbey's daily life, past and present, and in so doing, open doors to readers who might otherwise not have an interest in a musician with whose music they may only feign familiarity. The nice assemblage of personal photographs printed throughout the text adds an authenticity and completeness to the book."
  – Publishers Weekly, Vol. 256, Issue 20 - May 18, 2009
Interview CD
Pre-orders of the book received a CD containing over an hour of interviews conducted while researching the book.