POST PUNK DIARY: 1980-1982 (1997)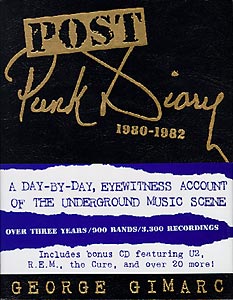 This softcover book picks up where "Punk Diary: 1970-1979" lets off. It lists day-by-day the releases, concerts, interviews, and other events of over 900 bands that emerged in the revitalized post punk (post disco) music scene. The Church have 11 entries:
Nov 13, 80 - vinyl debut with "She Never Said" single
Mar 14, 81 - "The Unguarded Moment'/"Busdriver" single out in Australia
Apr 13, 81 - debut album "Of Skins And Heart" released in Australia
Jul 13, 81 - "Tear It All Away"/"Too Fast For You" double single out in Australia
Jan 22, 82 - debut album "The Church" out in England, plus interview quotes from Marty
Mar 25, 82 - "The Blurred Crusade" released in Australia
Apr 20, 82 - new single: "Almost With You"/"Life Speeds Up"
Sep 7, 82 - new single in Australia: "When You Were Mine"/"Golden Dawn"
Oct 18, 82 - UK live debut at the Venue in London, plus review quote
Nov 3, 82 - new 10" EP: "Temperature Drop In Downtown Winterland" [pictured]
Dec 8, 82 - new 12" EP: Sing-Songs, plus Kilbey interview quote about it
Releases
Softcover, 374pp - St. Martin's Griffin, New York,
ISBN: 0-312-16968-X (USA) - September, 1997
Notes
With black and white illustrations. Author George Gimarc had a radio show (on KCW?) in the early 80's titled "The Rock and Roll Alternative."
A free interview CD is packaged with the book: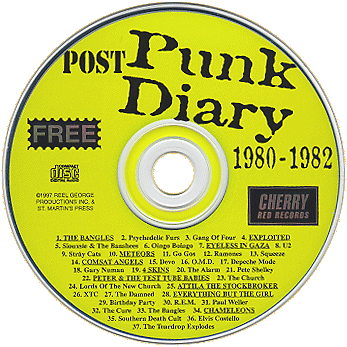 Tracks
The Bangles - Rock And Roll Alternative Radio Show Intro (1:14)
Psychedelic Furs - Richard Butler (singer) [on their start] (1:11)
Gang Of Four - Hugo Burnham (drummer) [on labels] (1:10)
The Exploited - Army Life [excerpt] (1:40)
Siouxsie & The Banshees - Siouxsie & Steve [on "Christine"] (1:21)
Oingo Boingo - Danny Elfman (lead singer) [on their start] (1:51)
Eyeless In Gaza - Kodak Ghosts Run Amok [excerpt] (1:29)
U2 - Adam Clayton and The Edge [on who they are and their start] (4:54)
Stray Cats - Brian Setzer [on their start] (1:08)
The Meteors - Voodoo Rhythm [excerpt] (1:07)
The Go-Go's - Jane Wiedlin [on "Our Lips Are Sealed"] (1:47)
Ramones - Joey and Johnny Ramone [on lack of airplay] (3:23)
Squeeze - Paul Carrack & John Bentley [on "Tempted"] (1:45)
The Comsat Angels - Eye Of The Lens [excerpt] (1:51)
Devo - Mark Mothersbaugh [on "Whip It"] (0:43)
O.M.D. - Andy McCluskey [on O.M.D.'s war against electric guitars] (1:37)
Depeche Mode - Andy Fletcher [on their start] (1:02)
Gary Numan [on finding himself, his direction] (3:19)
4 Skins - One Law For Them [excerpt] (1:43)
The Alarm - Mike Peters, Eddie Macdonald, Nigel Twist, and Dave Sharp [on philosophies] (2:12)
Pete Shelley [ex-Buzzcocks on "Homo Sapien"] (2:09)
Peter & The Test Tube Babies - Banned From The Pubs [excerpt] (1:24)
The Church - Steve Kilbey [on the "Just For You" intro] (0:58)   MP3 (128 kbps, 0.9 MB)


(Steve says the song is "Almost With You," but you don't know if that was a slip, or him toying with the interviewer.)

Lords Of The New Church - Stiv Bators & Brian James [on their philosophy] (2:06)
Attila The Stockbroker - I Don't Talk To Pop Stars [live] (1:16)
XTC - Andy Partridge [on not touring] (2:22)
The Damned - Rat Scabies [on music trends] (0:53)
Everything But The Girl - Night And Day [excerpt] (1:58)
The Birthday Party - Nick Cave [on messages, styles, and future direction] (2:46)
R.E.M. - Michael Stipe, Peter Buck, Mike Mills, & Bill Berry
[from Aug. '82, on their start, "Chronic Town" EP, & their sound] (5:17)
Paul Weller [on the split-up of The Jam] (1:49)
The Cure - Robert Smith [on poppy "Let's Go To Bed"] (2:17)
The Bangles - Susanna Hoffs, Debbi Peterson, Vicki Peterson, & Annette Zilinskas
[on their category & "The Changing Times"] (1:33)
The Chameleons - High As You Can Go [live excerpt] (1:46)
Southern Death Cult - Ian Astbury [on their start] (2:59)
Elvis Costello [crossed lines phone interview] (2:06)
The Teardrop Explodes - Larceny [live, loopy in-studio performance] (1:23)
George Gimarc - Thanks/Wrap-Up (0:49)
Releases
CD - Cherry Red Records PUNK8082 (USA)