STILL NOISE: AUSTRALIAN ROCK PHOTOGRAPHY (1991)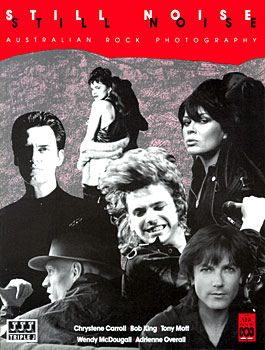 "Still Noise is a collection of photographs presenting a visual history of Australian musical artists over the past fifteen years. It captures the rare essence of performance magic from the edges of sweat-soaked, smoke-filled pubs and clubs to the front of crash barriers in arenas and festivals. Studio and location shots craft the image of the musicians in pose while video clip shoots catch those elusive moments or transcend the images of music video to deliver another side of their subjects.
"Artists featured range from INXS, Jimmy Barnes, Midnight Oil, The Angels, Johnny Diesel and the Injectors, and Crowded House through to Ollie Olsen, The Screaming Jets, Falling Joys, Died Pretty, The Saints and Beasts of Bourbon, to name a few.
"The photographers - Bob King, Adrienne Overall, Tony Mott, Wendy McDougall and Chrystene Carroll - present their best shots in black & white and colour. Their work has graced hundreds of publications here and overseas and they are in constant demand by artists, their managers and record companies to apply their talents in musically imagery through lens and film. Their shots come from all over Australia and as far afield as New York, London, and even Moscow."
This book contains full-page photos by Wendy McDougall of The Church Heyday album cover photo (October 1985), Steve Kilbey (October 1985), and Karin Jansson (October 1990).
Releases
Softcover, 136pp - Triple J/ABC Enterprises,
ISBN: 0-7333-0133-9 (Australia) - 209mm x 276mm, color & b/w photos