THE CHURCH'S STARFISH (2022)
by Chris Gibson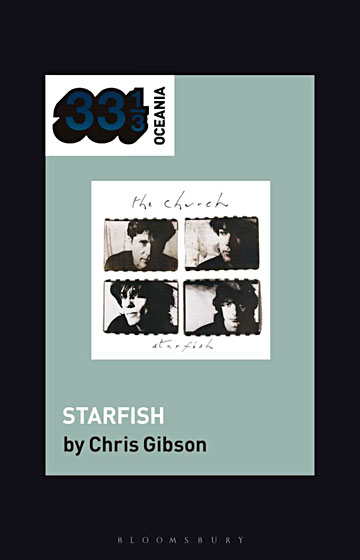 This book is part of the 33 1/3 Oceania series. Series Editors: Jon Stratton and Jon Dale.
Synopsis from the Publisher
After a string of commercial disappointments, in 1986 Australian rock band The Church were simultaneously dropped by Warner Brothers in the US and EMI in Australasia. The future looked bleak. Seemingly from nowhere, their next record, Starfish, became an unlikely global hit. Its alluring and pensive lead single, 'Under the Milky Way', stood in stark contrast to the synth pop and hair metal dominating the 1980s. A high watermark of intelligent rock, Starfish musically anticipated alternative revolutions to come. Yet in making Starfish, The Church struggled with their internal contradictions. Seeking both commercial and artistic success, they were seduced by fame and drugs but cynical towards the music industry. Domiciled in Australia but with a European literary worldview, they relocated to Los Angeles to record under strained circumstances in the heart of the West Coast hit machine.
This book traces the story of Starfish, its background, composition, production and reception. To the task, Gibson brings an unusual perspective as both a musician and a geographer. Drawing upon four decades of media coverage as well as fresh interviews between the author and band members, this book delves into the mysteries of this mercurial classic, tracing both its slippery cultural geography and its sumptuous songcraft. Situating Starfish in time and space, Gibson transports the reader to a key album and moment in popular music history when the structure and politics of the record industry was set to forever change.
Table of Contents
Prologue
Side 1
  1 Destination
  2 Under the Milky Way
  3 Blood Money
  4 Lost
  5 North, South, East, and West
Side 2
  6 Spark
  7 Antenna
  8 Reptile
  9 A New Season
  10 Hotel Womb
Postscript
Notes
Index
About The Author
Chris Gibson is a Sydney-based musician and writer, and Professor of Geography at the University of Wollongong, Australia. His books include Sound Tracks: Popular Music, Identity and Place (2003), Music Festivals and Regional Development in Australia (2012), Outback Elvis (2017) and The Guitar: Tracing the Grain Back to the Tree (2021).
About 33 1/3 Oceania
Spanning a range of artists and genres from Australian Indigenous artists to Maori and Pasifika artists, from Aotearoa/New Zealand noise music to Australian rock, and including music from Papua and other Pacific islands, 33 1/3 Oceania offers exciting accounts of albums that illustrate the wide range of music made in the Oceania region.
Releases
Hardcover, 160 pages - Bloomsbury Academic, Australia - July 14, 2022
ISBN-10: 1501387014, ISBN-13: 978-1501387012, 5" x 7.75"
Softcover, 160 pages - Bloomsbury Academic, Australia - July 14, 2022
ISBN-10: 1501387006, ISBN-13: 978-1501387005, 5" x 7.75"
Pre-order all formats at Bloomsbury.com: Australia / USA.