REAL WILD CHILD: AUSTRALIAN ROCK MUSIC 1950s-90s (1996)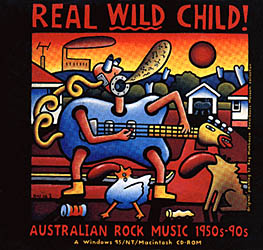 Produced in conjunction with an exhibition that toured Australia in 1996: a retrospective of Australian rock music from the 1950's through the 1990's.
Includes a write up of The Church by Ian McFarlane, a picture of the band taken in the early 80's, and a short audio clip of The Unguarded Moment.
Credits
Cover art by Reg Mombassa of Australian band Mental As Anything.
Title derived from "Real Wild Child" by 50's rocker Johnny O'Keefe.
Produced by Mushroom Pictures, Pacific Advanced Media, Powerhouse Museum and ABC/Triple J Radio.
Distributed by Roadshow.
Releases
Notes
Read the Press Release and Church write-up.