BABY GRANDE
Baby Grande was a 1975-77 pre-Church band involving Steve Kilbey and Peter Koppes.
BABY GRANDE 1975-77 (2018)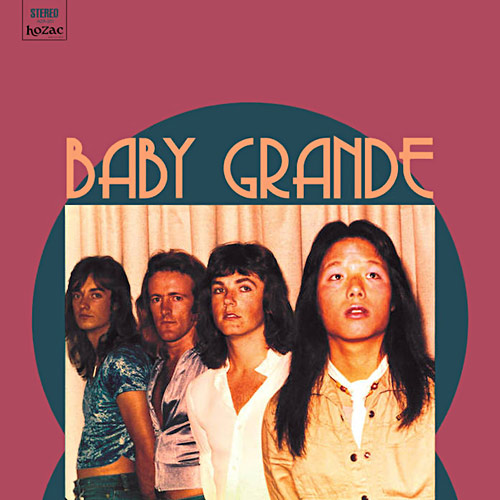 Tracks
(click a title for details)
Side A:
Side B:
Credits
Recorded 1975-77 in Canberra, Australia
at Alberts Studio, Air Studio, & EMI Studio
All tracks previously unreleased.
Steve Kilbey: Lead Vocals
Dave Scotland: Guitar
Joe Lee: Bass
Ken Wylie: Drums
Peter Koppes: Guitar *
Photos by Stan Kadlo
Special Thanks to: Frankie Jensen, Chuck Nolan, Badger, Steve Kilbey, and Dave Scotland.
Releases
LP - HoZac Records HZR-201 (HoZac Archival #27) (USA) - Oct. 12, 2018
   

1st press black edition of 500 copies, mailorder edition of 100 with with promo poster.


    Includes inner sleeve with photos, newspaper article & ads, and an interview with Kilbey and Scotland.
Digital Download - HoZac Records (USA)
Vinyl Run-Out Groove Messages
  HoZac Records HZR-201
    Side A: Lucky Canberra Ballcrusher
    Side B: Lucky Glamour Damage

Notes:
Some copies have a yellow sticker on the front cover which reads:
Now available for the first time in any format
BABY GRANDE
Australian GLAM/Proto-PUNK, missing link
"Screaming out of Canberra circa 1975-77, teenage glam rock fans Steve Kilbey and Peter Koppes (later founding members of THE CHURCH), dug their heels in and created Baby Grande, one of the very few Aussie bands to successfully bridge the gap between glam rock, and the quickly emerging snarl of 1st wave punk. Although their EMI deal fell through, luckily this LP has been saved from slipping through the cracks."
with FREE download
HZR-201
HoZac Archival
Steve wrote about this album on his blog on Aug. 6, 2018 ["grande theft (glam)"].
Reviews & Comments
COMPILATIONS FEATURING TRACKS BY BABY GRANDE
ALL THE YOUNG DROOGS: 60 JUVENILE DELINQUENT WRECKS (2019)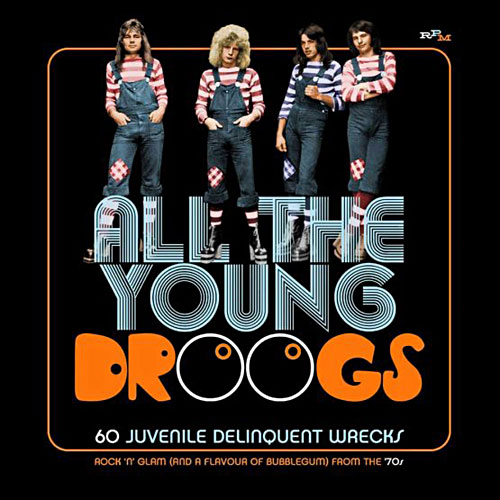 Tracks
Disc One: Rock Off!
Hey Sweety - Ray Owen's Moon
Working Class Man - Third World War
I Got A Right - Iggy & The Stooges
Wok N' Woll - Milk 'N' Cookies
Hold On Tight - Method
Be A Man - The Brats
Lazy London Lady - Change
Looking For Love - Glo Macari
Big Boobs Boogie - Slowload
Lovely Lady Rock - James Hogg
Teenage Love Affair - Iron Virgin
I Like It Both Ways - Supernaut
Brother John - Fancy
Don't Let Go - Rats
She's Not My Lover - Cole Younger
Roxy Roller - Sweeney Todd Featuring Brian Guy Adams
Boys Will Be Boys - Taste
Get Outta My House - Hustler
Machine - Ning
Hard Road - Stevie Wright
Disc Two: Tubthumpers & Hellraisers
My Teenage Queen - Harpo
By Bye Bad Days - Hector
Saturday Night - Bilbo Baggins
Game's Up - Hello
Poser - Frenzy
Sex Appeal - Simon Turner
Yeah - The Jets
Lucifera - Lemming
Whizz Kid - Mott The Hoople
Little Boy Blue - Angel
Zephyr - Baby Grande
I Want You (All Night Long) - Hot Rod
Looking For You - Redhead
Cut Loose - Stud Leather
Gimme Gimme Some Lovin' (Gimme Gimme Good Lovin'/Gimme Some Lovin') - Biggles
Dog Eats Dog - Mint
Fast Train - Tank
Hey Hey Jump Now - The One Hit Wonders
Sweetness - Boneshaker
Let Me Tell Ya - U.K. Jones
Disc Three: Elegance & Decadence
Abstracting Billy - Brett Smiley
Guess Who's Coming To Dinner - John Howard
Criminal World - Metro
White Stockings - Roy Allison
Spaceship Lover - Paul St John
Ultrastar - Rococo
Star Machine - Woody Woodmansey's U-Boat
Night Creatures - Be Bop Deluxe
New York City Pretty - Clive Kennedy
I Won't Dance - John Henry
Don't Leave Your Lover Lying Around (Dear) - Steve Elgin
Wonder Ones - Alastair Riddell
I Live In Style In Maida Vale

(Demo Version)

- Helter Skelter
Virginia Creeper - Greg Robbins
Paper Party - Brian Wells
Waiting - The Doctors Of Madness
Showbiz Kid - Sleaze
White Man, Black Man - Spiders From Mars
Pastiche Blue - James Arthur Edwards
Daybreak - Buster
Releases
3CD Box Set - RPM Records RPMBX 543 (UK) - Jan. 25, 2019