BLUE MILLION MILES
The name of this collective of musicians comes from the Captain Beefheart and the Magic Band song "Her Eyes Are a Blue Million Miles" from their 1972 album Clear Spot.
BIG BIG PLACE (EP) (1994)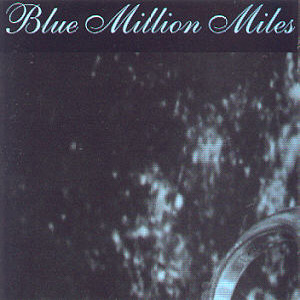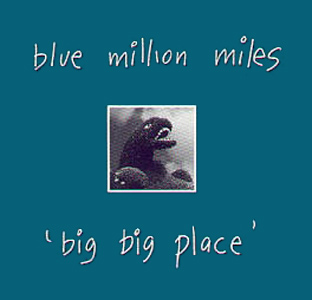 Tracks
Big Big Place

(3:34)

Everything

(3:52)

Break This Cold

(4:46)

Near

(4:03)

Most

(3:05)

Little Pieces

(7:50)
Credits
Mark Foster - Vocals, Guitars
Mark Bradridge - Guitar, Bass, Keys, Percs., 'Vocals'
with:
  Tim Powles - Drums, Percs.
  Mo D'Abruzzo - B. Vocals, 'Cello'
  Mark Elder - Tom Toms
  Boris Goudonov - Piano
Recorded at Karmic Hit - Engineered by Russell Kilbey
  and Powerhouse Studios - Engineered by Craig Beck
Produced by Blue Millon Miles, Russell Kilbey, and Craig Beck
Cover/Photos: B.M.M.
Lettering: Julie Hook
Releases
CD - Eternity Recordings/Polydor 853 395-2 (Australia)
Notes
This was released twice with different covers.
COMPILATIONS FEATURING TRACKS BY BLUE MILLION MILES
PROUDLY AUSTRALIAN (1994)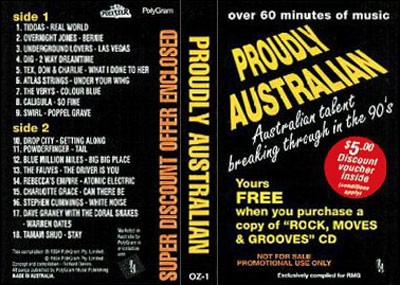 Tracks
Side 1:
Real World - Tiddas
Bernie - Overnight Jones
Las Vegas - Underground Lovers
2 Way Dreamtime - Dig
What I Done To Her - Tex, Don & Charlie
Under Your Wing - Atlas Strings
Colour Blue - The Verys
So Fine - Caligula
Poppel Grave - Swirl
Side 2:
Getting Along - Drop City
Tail - Powderfinger
Big Big Place - Blue Million Miles
The Driver Is You - The Fauves
Atomic Electric - Rebecca's Empire
Can There Be - Charlotte Grace
White Noise - Stephen Cummings
Warren Oates - Dave Graney With The Coral Snakes
Stay - Tamam Shud
Releases
CASS - Polygram OZ1 (Australia Promo)