JUSTIN CLAYTON / CLAY
LIMB (1999)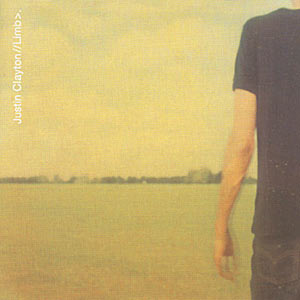 Tracks
Collide

(2:47)

Miles Away

(3:05)

(Sometimes Life's A) Drag

(3:41)

Tragic

(4:06)

Painless

(5:04)

Just Like You

(3:58)

Unsaid

(2:37)

You Sink Me

(3:16)

Shallow World

(5:22)

 – 
Slide

(4:05)

If You Feel Like Comin' Down

(7:30)
Credits
12 String Rickenbacker Track 9: Marty Willson-Piper
Recorded At: The Blue Room, Gävle, Sweden, March/April 1999
Produced By: Marty Willson-Piper
Vintage Guitars and Amps Supplied By Marty.
Releases
CD - Ultimatum Music ULT002 (USA) - Sept. 14, 1999
CD - Ultimatum Music [no catalog number] (USA Promo)
   (with "Drag" instead of "(Sometimes Life's A) Drag" and "Untitled" instead of "Just Like You")
Digital Download - Smallman Records (UK) - 2005 - Available at CD Baby, Amazon and Apple Music
Notes
Limb was recorded at the Blue Room located in the isolated town of Gävle, Sweden, March/April 1999. "The 11 track CD is an individual musical journey that carries its listener away from the routines of everyday life. Its collage of poignant, melancholic lyrics pasted on guitar-pop melodies is a monologue of unresolved feelings which center around nothing - yet everything."
Here's an album review from CMJ New Music Report (Nov. 8, 1999, p. 20):
At first blush, Justin Clayton's airy, distinctly English tenor and achingly grand melodic sensibility recalls the tuneful angst of The Bends-era Radiohead. But despite being enamored with its share of sweeping rock gestures, his debut is grounded by a peaceful, structurally straightforward approach. Produced by The Church's resident six-string jangler Marty Willson-Piper, Limb dresses up Clayton's sad-eyed, but ultimately hopeful sentiments in fine swaths of ringing acoustic and electric guitars, which he drapes around himself to elegant effect. The entire album is bathed in kind of a soft, tranquilly surreal glow, which elucidates the blissfully lulling allure of the singer/guitarist's low-key songwriting. If you could hear the slow, numbing, post-spike euphoria that overtakes a smack addict, it might just sound something like Limb. -- Colin Helms
For Fans Of: Radiohead, Sparklehorse, Drugstore, The Verve
Recommended Tracks: "Drag," "Tragic," "Shallow World"
COLLIDE (2002)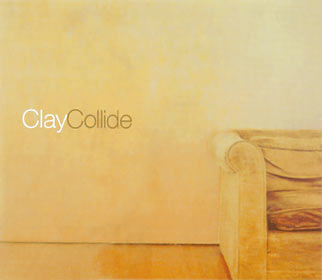 Tracks
Collide

(2:50)

*

Tragic (Demo) (3:51)
No Worries (Acoustic Demo) (2:06)
* Produced by Marty Willson-Piper
Releases
CD - Smallman Records SMRCD001 (UK)
Notes
Here's the write-up for this single that mentions Marty Willson-Piper:
Clay is a band formed around Justin Clayton, a singer songwriter originally hailing from Liverpool. Justin moved to New York after meeting an American girl in London. It was a short lived whirl wind romance so from there he headed west on his own road movie ending in Los Angeles where he rented himself a one room flat and set about writing and demo-ing an album's worth of songs.
Justin eventually missing the Olde Blighty returned to London to look for a Band. In London he met up with Marty Willson-Piper, member of legendary indie guitar band The Church and after a day together of talking music and rifling through Marty's vast collection of 60's and 70's vinyl Justin asked him to produce some of his songs. They shared an appreciation of the warm edgy sound of bands like Badfinger, Bowie's Spiders from Mars, Peter Green's Fleetwood Mac, early Zeppelin and later, records by Teenage Fanclub, to name but a few. Mix up the sonic pallet of all of these guys with the mood swings of Jeff Buckley or Thom Yorke and you have something resembling Clay.
In keeping with the now seemingly international theme, Marty suggested an inexpensive studio and engineer in Sweden that he knew and introduced Justin to rhythm section J. Odelholm, bass, and Christer Bjorklund, drums. The three musicians instantly gelled, dimmed the lights and proceeded to flesh out the songs, recording live to tape at The Blue Room studios deep in the forest a few hours drive North of Stockholm.
Clay's first single release is 'Collide'. Justin handles the vocals and the guitars with Jerker and Christer supplying the foundation. Andreas the engineer also pitches in on keyboards. "Collide is about meeting up with the girl after it's all gone south and the pull you still get when your not sure about the whole thing but the chemistry is still there. I suppose it's all a bit self-destructive", says Justin.
The two other tracks on the single are 'Tragic' and 'No Worries', both recorded in his flat on his 8 track home studio.
After a lot of travelling and a few false starts Justin decided to release this single on Smallman Records and will be taking his band out live soon. A Second Single and Album will be forthcoming in the New Year.
"I'll just keep plugging away 'till someone gets it. It's all I know"