COLE & VAN DIJK
Cole & Van Dijk was the Brisbane instrumental folk duo Jevan Cole and Jan Van Dijk. They released two albums, this one and the much earlier and sparser Tunes of Curly Nature (2003).
SINS OF A LI'L LATER KISS (2012)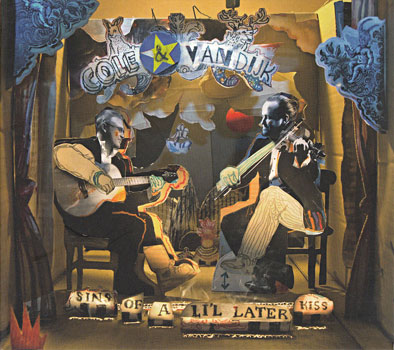 Tracks
Summertime Widow / Detour Deluxe

(4:11)

Old Leaves & A Cold Creek / A Red High Chair

(5:36)

You've Got Me All At Sea

(4:39)

Bruny / Arthur McBride

(2:34)

Bogan's March / Carpenter's Morris

(3:26)

Leaving Raven

(3:24)

Slow Like Bells / The Assassin / Fairly Shot Of Her / Step Down Jack / The Peacock Follows The Hen

(7:51)

Three Days' Notice

(3:35)

Good Morning To My Nightcap / The Down Reel / The Star of Munster / Grounded / Maggie's By Jennie's

(5:26)

Menagerie

(2:40)

Lonesome John / Yew Piney Mountain

(4:46)
Credits
Jevan Cole - Guitar, 5 String Banjo
Jan Van Dijk - Fiddle, Tenor Banjo
with
Kellee Green - Piano, Wurlitzer Organ
Suzanne Hibbs - Percussion
Piet Van Dijk - Cello
Joff Bush - Piano, Accordian
Additional Hammond Organ - Jecan Cole and Ian Haug
All titles arranged by Cole and Van Dijk
Recorded at Airlock Studios, Camp Mountain, September and October 2012
Produced by Ian Haug
Engineered and Mixed by Yanto Browning
Assistant to Mr. Browning - Constantine Kersteing
Mastered by Dave Neil at Modern Mastering
Pre-production - Seamus Kirkpatrick
Photography by David Collins
Cover Art and Design by Jan Van Dijk
Design by David Collins
Releases
CD - Treeskin Music TSK 1210 (Australia)
Digital Download - Available on Bandcamp
Notes
Bandcamp write-up:

Released in 2012, Sins of a Li'l Later Kiss is the second and final album from Brisbane instrumental folk duo, Cole and Van Dijk. 'Sins' sees the pair broaden their musical palette from the austere arrangements for fiddle and guitar of their previous album (Tunes of Curly Nature) and live performances.
Ian Haug (Powderfinger, The Church) was enlisted to produce the album at his Airlock Studios west of Brisbane and a few friends were called in to add various musical flourishes. What resulted is a rich and textured album of traditional and original tunes that lends itself as much to classical, psychedelia, and contemporary art musics as it does to the traditional folk music that has been Cole and Van Dijk's enduring source of inspiration since they began playing together in 2001.