TIM POWLES: OTHER BANDS & SIDE PROJECTS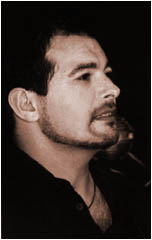 Tim Powles was born in Wellington, New Zealand, in 1959. He played drums for Flight X-7 before moving to Australia in 1981. He played for Knobz and Ward 13 before joining Venetians in 1983. After 3 albums and a number of singles, Venetians disbanded in 1989. Tim went on to do freelance engineering and production work, and session work for various bands, including The Church on 1994's Sometime Anywhere. By 1996 he was a full-time member of the band and started touring with Steve, Marty and Peter in Sept. 1996. With 1998's Hologram of Baal Tim began taking on the extra roles of recording, mixing and production for The Church.
Tim merged all his side work into his Spacejunk Production House in 2002, incorporating the Spacejunk Studio, his Spacejunk label, and Project Management (band management, tour management and promotion, and production management). He has worked with many bands from Australia and beyond. Tim received a 2009 ARIA Award nomination for his production work for "The Peaceful Atom is a Bomb" by Regular John.