STEVE KILBEY & RICKY MAYMI

Ricky Maymi is a founding member of The Brian Jonestown Massacre
DAVID NEIL "THE WILDERNESS YEARS" (2011)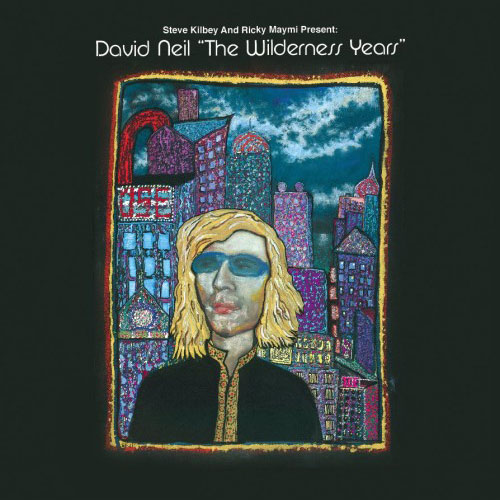 * Bonus Track: not on LPs, hidden on CDs
Credits
Steve Kilbey - Vocals, Acoustic Guitar, Piano
Ricky Rene Maymi - Electric and Acoustic Guitars, Drums, Keyboards, Percussion
Jonathan Zwartz - Double Bass
David Skeet - Mellotron on "Higher Than Yesterday"
Matthew McMahon - Piano on "Higher Than Yesterday" and "Lowboy"
Graham Lee - Steel Guitar on "Higher Than Yesterday"
Scott Von Ryper - Slide Guitar on "The Equator" and "Was There Ever"
Eve Kilbey and Natalie Kilbey - Backing Vocals on "Walk With Me"
Produced by Steve Kilbey and Ricky Maymi
Engineered by David Skeet and Nick Mainsbridge
Releases
LP - Self-released (Australia) - July 5, 2011 - On "Blood" Red Vinyl - Limited Edition of 500
LP - Self-released (Australia) - July 5, 2011 - On Black Vinyl - Limited Edition of 500
CD - Self-released (Australia) - July 5, 2011 - 2 pressings of 250 each
Digital Download - (Australia) - July 5, 2011 - Available at Bandcamp, Amazon and Apple Music
Vinyl Run-Out Groove Messages
  Side 1: KNEEL DIAMOND DOG!
  Side 2: WE ALL LIVE IN THE WILDERNESS
Notes
Ricky Maymi posted this backstory on keepmusicevil.freeforums.org:
"David Neil" is a Canadian guy from the 70's who died in a plane crash.
He was in the airplane lavatory overdosing on heroin when a jealous lover
broke into the lavatory and gunned David down as he OD'd and the plane crashed.
So, the coroner could not decide the actual cause of death.
The Heroin, The Bullets or the actual crash.
SK and I came into possession of David's tapes (a cross between David Bowie and Neil Young) and we decided to to do some of his songs and make an album to be called "The Wilderness Years" ;-)
Steve Kilbey briefly described the album in his blog on Dec. 31, 2009 ("ever since/time-on"):
david neil weird frail ghostly wild shambolic pop
Publicity write-up:
Who is David Neil? An enigmatic and ephemeral rock star from days past, who somehow slipped through time's arbitrary clutches; his premature death (or triple death, as the coroners put it) seeing him drizzle down a clotted drain hole into a dank sewer, joining the collective waste and wonder of many a has-been and never-was. Lying there stagnant, his music could only be heard in ghostly whispers by sewer rats and underground junkies alike for decades, until, legend has it, his touring bassist Steve Kilbey (of The Church) dug it up.
Until recently, however, he'd kept these in a locked valise, awaiting the genius creative accompaniment required to set them free. In a collaborative effort with The Brian Jonestown Massacre's kaleidoscopic guitar maestro Ricky Maymi, Kilbey has brought his brainchild David Neil's work out of the ether and into a tangible format; more specifically the form of limited edition blood red vinyl, entitled 'The Wilderness Years', by David Neil. This LP is set to be released in July, and to celebrate its release, Steve and Ricky (along with Shaun and Adrian Hoffmann) will be touring Australia, hitting up Perth, Melbourne, Sydney and Hobart in July with additional NSW dates in August. Special guests on this tour will be Jill and Alsy of seminal Australian icons The Triffids, as well as Richard Lane of The Stems making for an epic line up of Australian rock 'n' roll figureheads performing rare, intimate shows. Is David Neil real, or is he unreal because we can't touch him? Is his music real, or is it unreal because we can't touch it? If we can't touch it, does that mean that it is unable to touch us? You'll just have to decide for yourself.
Reviews & Comments
DAVID NEIL "THE WILDERNESS YEARS" PROMO CD (2011)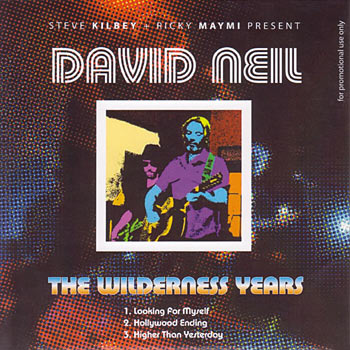 Tracks
(click a title for details)
Credits
Steve Kilbey: Vocals, Acoustic Guitar, Piano
Ricky Rene Maymi: Electric and Acoustic Guitars, Drums, Keyboards, Percussion
With Invaluable assistance from:
Jonathan Zwartz: Double Bass
Matthew McMahon: Piano on "Higher Than Yesterday"
Graham Lee: Pedal Steel Guitar on "Higher Than Yesterday"
David Skeet: Mellotron on "Higher Than Yesterday"
Recording Engineer: Nick Mainsbridge
Mixed & Mastered by David Skeet
Recorded at the Bondi Pavilion, Bondi Beach, NSW
Mixed at Skeet Sound, Paddington, NSW
Production: Ricky Rene Maymi, Steve Kilbey
Co-Production: Nick Mainsbridge, David Skeet
Executive Producer: Kip McClanahan
All Songs: Kilbey/Maymi // © Copyright 2011
Releases
CD - Self-released? [no catalog number] (Australia)
Notes
More invented backstory from the back cover:
David Neil was born in Saskatoon Canada circa 1950; few facts are known about his early career. Around 1970 Neil begins to play some regional gigs here and abroad. He puts together his classic band line up and starts to record original material.
Neil's tapes circulated as bootlegs for years. The most famous and revered being "The Wilderness Years" on the famous Trademark of Quality label. It was on blood red vinyl and in 2008 Steve Kilbey and Ricky Rene Maymi were bequeathed some 16 track masters for what would later become known as "The Wilderness Years". The tracks were unfinished and in some places unusable. Kilbey and Maymi aimed to preserve the authenticity but also had to play to and around the original recordings. Some songs that lacked vocals, Kilbey sings relying on memory of his tour and friendship with David Neil plus some newly found lyric books. Other songs are various admixtures of new and old voice and instruments as different players are blended through the weave while preserving Neil's true sound.
"WILDERNESS YEARS" 2011 ANTIPODEAN TOUR CD (2011)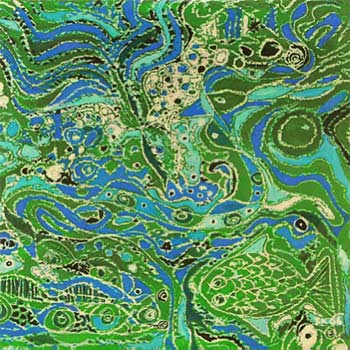 Tracks
(click a title for details)
The Ancient World

(2:46)

Life's Little Luxuries

(2:49)

The Neverness Hoax

(4:05)

Limbo

(4:10)

Nothing Inside

(2:21)

Transaction

(4:14)

We Will Fall (8:59) (Stooges song)
Credits
Steve Kilbey - Vocals & Acoustic 12 String Guitar
Ricky Maymi - Electric Guitar
Adrian Hoffmann - Bass
Shaun Hoffman - Drums
Recorded at Satellite Studios
Produced by all concerned
Mixed by Darren Halifax & Ricky Maymi
All songs by Steve Kilbey except We All Fall by James Osterberg
All copyrights owned by the composers
Cover art "Ante Diluvian" (2006).
Disc art "Universe" detail (2006) -
Original Art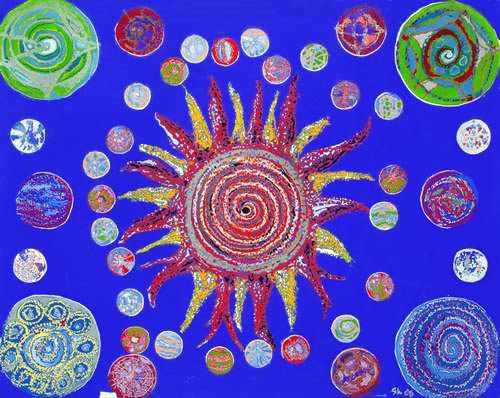 Original Artwork by Steve Kilbey, info www.thetimebeing.com
Releases
CD - Self-released [no catalog number] (Australia) - Super Special Limited Edition of 200
Notes
This CD was initially sold at their "2011 Antipodean Tour." Copies left after the tour were made available online for purchase.
COMPILATIONS FEATURING TRACKS BY STEVE KILBEY & RICKY MAYMI
WITH A BOW: A BENEFIT FOR DISASTER RELIEF IN JAPAN (2011)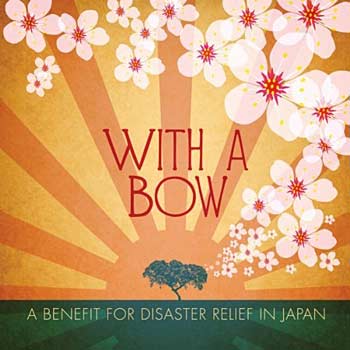 Tracks
Walk With Me

(2:39)

- Steve Kilbey & Rick Maymi
A Rushing

(2:34)

- 50 Foot Wave
Wake

(3:50)

- The Soft Bombs *
Dark Times

(2:47)

- Wild Swans
19 9 Dings

(2:52)

- Katy Stone
Miss Lovelock USA

(3:20)

- Silent Pictures
Don't Rain On My Parade

(3:05)

- Puce Moment *
The North Wind

(3:10)

- Paula Frazer/Tarnation *
Queen Of The Scene

(4:23)

- The Hypnotist Collectors
Faith To Fall

(3:32)

- Kate Burkart
Lazy Eye

[Demo] (3:21)

- Throwing Muses
My Loving Cup

(4:03)

- Barbara Manning *
New Chemical Light

(3:35)

- Factory Star
So Depressed

[Acoustic Version] (3:19)

- Matt Piucci *
Summer Sun Stomp

(4:58)

- The Lotus Moons *
What's Begun

(3:17)

- Skystone *
California Sister

(3:25)

- The Moore Brothers *
Flooding

[Piano Version] (3:18)

- Kristin Hersh
Purple Heart

(3:37)

- Steven Roback *
Are You An Entertainer?

[Live] (6:04)

- Burlington Welsh Male Chorus/Jon Langford/Jon Langford & His Sadies/The Sadies *
* indicates previously unreleased tracks
Releases
CD - Kitten Charmer KC005CD (USA) - Nov. 22, 2011 - Digipak
Notes
Official write-up at Kitten Charmer:
On the 11th of March 2011, the Earth moved. Literally. An unprecedented 9.0 magnitude earthquake struck off the coast of Japan, triggering tsunami waves of up to 40.5 meters traveling up to 10 km inland. The full extent of the impact on the Fukushima Nuclear Power Plant and its surroundings is still unknown. What was immediately shown to the world was the dignity and grace with which the Japanese people approached the horrors of these natural and man-made disasters. There was no looting, no violence, only compassion and helping hands. It is in this spirit that Kitten Charmer humbly offers With a Bow: A Benefit for Disaster Relief in Japan.
This album features new and rare recordings by Barbara Manning, Jon Langford (Mekons), The Wild Swans (Echo and the Bunnymen / Spiritualized), Matt Piucci (Rain Parade), Factory Star (The Fall), Steve Kilbey (The Church) & Ricky Maymi (Brian Jonestown Massacre), 50FOOTWAVE, Paula Frazer & Tarnation, Throwing Muses, The Moore Brothers, Kristin Hersh, Steven Roback (Rain Parade) and many more. 20 tracks total!
All artist and label proceeds will be donated to the Red Cross for their disaster relief efforts.
Short Review:
With a Bow benefits the Red Cross' relief efforts in earthquake and tsnami-stricken Japan, and its selections would benefit any fan. Each artist respectfully contributes excellent, instead of stray/spare/unremarkable, cuts. The Church's Steve Kilbey (with Brian Jonestown Massacre's Ricky Maymi) and a Moore Brothers' Big Star-like offering are particularly striking. But c'mon – Kristin Hersh on evocative piano (along with songs by her bands Throwing Muses and 50 Foot Wave)? Wild Swans, Paula Frazer and Tarnation, Barbara Manning, Factory Star, Matt Piucci, and Steven Roback from Rain Parade, and Mr. Mekon, Jon Langford, etc.? Buy, buy, buy.
- Jack Rabid, The Big Takeover