GRANT MEFFAN
LIVING REMAINS (2003)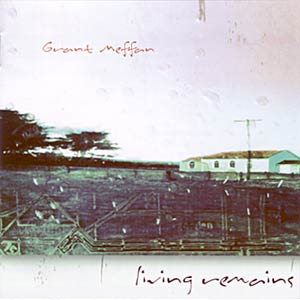 Tracks
Between The Cracks

(5:16)

In Trouble With God

(4:48)

Living Remains

(5:25)

Rise

(3:22)

Not Today

(4:49)

Be The One

(3:29)

Anywhere You Are

(4:39)

Spooky

(4:27)

New Age Daughter

(5:08)

Superstition

(6:39)

Taking A Chance

(4:42)
Credits
All songs written by Grant Meffan
Recorded, Mixed & Produced by Tim Powles
Recorded in Tims lounge room &
Spacejunk Production House, Glebe,
between 1998 & 2002.
Mastered at 301 Sydney by David Macquarie
Guest Musicians:
  Mike Caen
  Pat Hayes
  David Lane
  David Skeet
  Skulkers Betti, Annette (Bassa) & Greer
  Courtesy of Chatterbox records
  Carly Horden
  And of course Tim Powles
Releases
CD - Spacejunk SJ002 (Australia) - May 12, 2003
Notes
From the Spacejunk Media Release:
"Living Remains" is the debut album from Grant Meffan. Full of Dunedin style melancholy and dark twists, this recent sonic offering delivers a delightfully smooth sound, with soft and subtle electronic undercurrents.
Intriguing lyrics wrapped in a captivating unpretentious sound layer. The effect is subtle and deep reaching, it invites one to return.