MICE
BECAUSE I CAN (1996)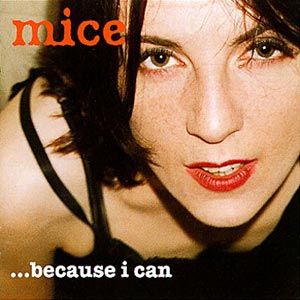 Tracks
Mat's Prozac

(3:16)

Star

(3:00)

Dear Sir

(2:55)

Bang Bang

(3:34)

The Milkman

(2:47)

 – 
Blue Sonic Boy

(6:40)

Julie Christie

(4:17)

Miss World

(4:13)

* – 
Trumpet Song

(4:28)

Battersea (3:09) (co-written by Marty Willson-Piper) *
Messed Up

(3:09)
* Marty Willson-Piper plays 12-string guitar on these tracks
Releases
LP - Permanent Records PERMLP35 (UK) - Gatefold Sleeve
CASS - Permanent Records PERMMC 35 (UK)
CD - Permanent Records PERMCD 35 (UK) - August 5, 1996
CD - Permanent Records PERMCD35 (UK Promo) - June 1996 - Envelope sleeve and promo text

Also available as a limited edition 2CD Permanent Records PERMCDX 35 (UK)
includes free CD5 featuring four tracks recorded for the Mark Radcliffe show on Radio 1, first broadcast on June 3, 1996:
MARK RADCLIFFE RADIO 1 SESSION (1996)
The Milkman (2:37)
Mat's Prozac (3:06)
Blue Sonic Boy (7:09)
Dear Sir (2:43)
Marty plays guitar on all these tracks.

A promotional CD was also released to promote the album:
"IT'S A SAMPLER FOLKS!"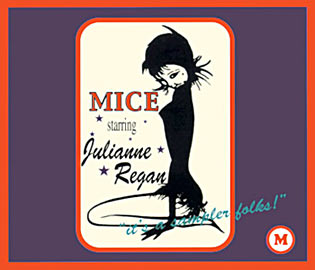 Mat's Prozac (3:18)
Dear Sir (alternate version, unavailable elsewhere) (2:53)
Miss World (4:15)
Blue Sonic Boy (6:44)
CD - Permanent Records PROZPROMO CD1 (UK Promo) - February 1996

Mice released three singles: "Mats Prozac", "The Milkman", and "Dear Sir".
Marty doesn't play on any of these releases.
NEW AND IMPROVED (2001)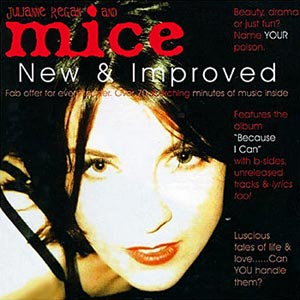 Tracks
Dear Sir
Miss World (Marty Willson-Piper plays 12-string guitar)
Star As Bright As You Are

[previously unreleased]

Trumpet Song
The Milkman

(full cream version)

Mat's Prozac
Blue Sonic Boy
Bang Bang
Battersea (co-written by Marty Willson-Piper)
Messed Up
Star
Tiny Window

[B-side]

Pyjamadrama

[B-side]

Martian Man

[B-side]

Unborn Angel

[home demo]

Dumb Girl

[home demo]

A Dark Place [home demo - Marty Willson-Piper plays "tremelo guitar"]
Hit Or Miss

[home demo]

Julie Christie
Releases
CD - Jamtart Records AAEVP3 (UK) - August 8, 2001