MIMESIS
ART IMITATING LIFE (2007)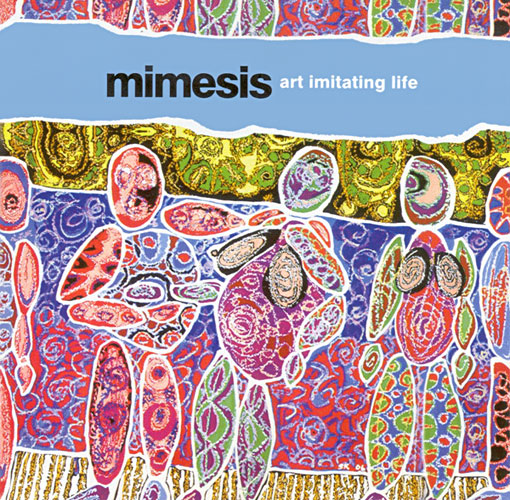 Tracks

(roll over or tap a track name for credits)

  Media

1.
The Beginning

The Beginning

(S. Kilbey/S. Polinski/D. Abiuso/C. Berwick/J. Kilbey)

Steve Kilbey: vocals
Simon Polinski: synthesizers, programming
Colin Berwick: ebow, harmony guitar
David Abiuso: electronic vinyl transmissions (evt), synthesizer
John Kilbey: backing vocals
Geoffrey Hales: percussion

(11:07)

/
2.
Kuala Lumpur 1983

Kuala Lumpur 1983

(S. Kilbey/S. Polinski/D. Abiuso/C. Berwick/J. Kilbey)

Steve Kilbey: vocals
Simon Polinski: synthesizers, programming
Colin Berwick: ebow, electric guitar, Spanish guitar, piano
David Abiuso: double bass, fretless bass, synthesizer, evt
Ollie Olsen: AKS synthesizer
John Kilbey: backing vocals
Geoffrey Hales: percussion

(12:40)

/
3.
She's In The Garden

She's In The Garden

(S. Kilbey/S. Polinski/D. Abiuso/C. Berwick/J. Kilbey)

Steve Kilbey: vocals
Simon Polinski: synthesizers, programming
Colin Berwick: electric guitar
David Abiuso: double bass
John Kilbey: backing vocals
Geoffrey Hales: percussion

(6:28)

/
4.
White

White

(S. Kilbey/S. Polinski/D. Abiuso/C. Berwick/J. Kilbey)

Steve Kilbey: vocals
Simon Polinski: synthesizers, programming
Colin Berwick: piano
David Abiuso: double bass, evt
John Kilbey: backing vocals
Geoffrey Hales: percussion

(21:39)

/
5.
Matthews Sends His Regards

Matthews Sends His Regards

(S. Kilbey/S. Polinski/D. Abiuso/C. Berwick/J. Kilbey)

Steve Kilbey: vocals
Simon Polinski: synthesizers, programming
Colin Berwick: electric bass, harmony guitar
David Abiuso: evt, synthesizer
John Kilbey: backing vocals

(8:48)

/
6.
Fin

Fin

(S. Kilbey/S. Polinski/D. Abiuso/C. Berwick)

Steve Kilbey: vocals
Simon Polinski: synthesizers, programming
Colin Berwick: piano, ebow, electric guitar, electric bass
David Abiuso: evt
Geoffrey Hales: percussion

(19:03)

/


Credits
mimesis is Steve Kilbey, Simon Polinski, Colin Berwick, David Abiuso.
Additional musicians: John Kilbey, Geoffrey Hales & Ollie Olsen.
Produced by Simon Polinski.
Recorded and mixed by Simon Polinski at Laundry Goat studio, Melbourne, Australia
  except White mixed by Greg O'Shea.
All Vocals recorded by John Kilbey at Karmic Hit, Sydney, Australia.
Mastered by Simon Polinski and David Abiuso at Laundry Goat studio.
Cover painting by Steve Kilbey.
Releases
CD - Psy-Harmonics PSY-062 (Australia) - Apr. 2, 2007
Digital Download - Available at Bandcamp
Notes
Steve wrote about this album on his blog on July 21, 2012, and announced a limited special offer:
i have acquired a small limited number of the original cds
i will include an original cd sized artwork with each copy
each copy will be signed
20 aust bucks plus within aust 5 bucks postage
outside aust 10 bucks postage
skp pay 15 bucks for cd but same postage rates
well there you go if you want one
if not no problem no need to apologise
pretty out there stuff ...mimesis....go on...!
or maybe not
its not for everybody's taste......
Reviews & Comments
Original Artwork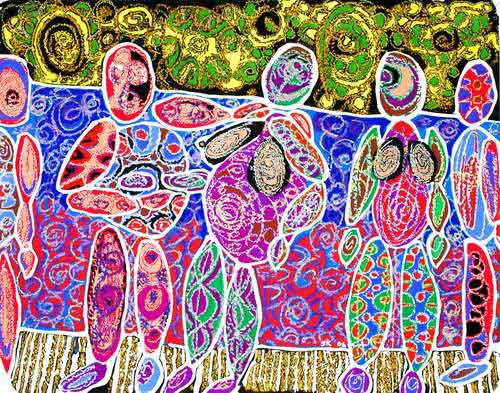 Art Imitating Life by Steve Kilbey
19" x 24"
Mixed Media -- pastel, gouache