MISS V
APPEARING TONIGHT... (2004)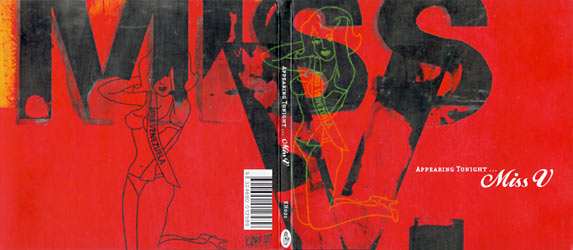 Tracks
I Recall

(3:51)

Holding Photographs

(3:09)

C'mon Let's Go

(4:20)

Better Off Dead

(3:23)

The Ghosts Of South Maroota

(6:28)

Racing

(3:19)

Motorcar

(3:33)

Listen...

(4:46)

*

Perfect World

(3:37)

The Wedding Song

(5:12)
*Guest Appearance by Steve Kilbey, reading a poem.
Partial Credits
John Kilbey - backing vocals, keyboards, animal noises
Produced by John Kilbey and Sacha Molitorisz
Mixed and engineered by John Kilbey
Releases
CD - Karmic Hit KH021 (Australia) - May 3, 2004 - digipak
Digital Download - Karmic Hit (Australia) - Aug. 28, 2006 - Available at Amazon and Apple Music
Notes
Steve's Poem on the track "Listen...":
Listen, the books are all different.
Men argue and reach nothing.
And the truth is hidden in caves.
But I have heard this tale.
At the beginning of time men lived in the clear air and moved at will without any effort.
Then the earth was honey, sweet and delicious.
Few by few † the men dipped down from the sky to taste it.
Then they took more than a taste, though they needed no food to live.
And as they ate they became too heavy to fly, and their wings dropped off.
While earth becrusted and dry, were made for seeds, and the rains began to fall.
Then the last man could fly no more.
Then there appeared women, that we called the men, as we named ourselved shortly after.
And those who once flew ??? [3:11], they began to desire them,
and after to bear their children, and change....
† Simultaneously from here:
Everyone was remorseful. Earth could bear no more weight.
Rather heard her cry as we began to think about tools of destruction.
And he said, "I can find no weight"
And even then more and more people were on earth.
And then his ??? flew ??? heaven ??? sky, old earth, fly(?)
??? This is the way ??? merciful ???