SARA MITCHEL
THE GREY ROOM (2003)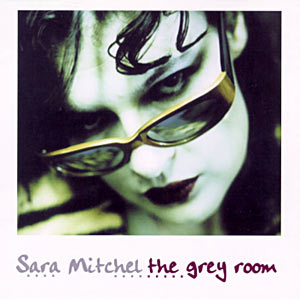 Tracks
Sweet Medicine

(1:22)

Strange Train

(4:11)

Hate My Heart

(2:43)

Away From Me

(4:47)

Deep

(4:37)

Charlie

(4:59)

The Grey Room

(4:28)

 – 
The Ragadoll Girl

(4:35)

Godshapedhole

(3:59)

You Say You've Got The Blues

(4:35)

Little Death

(7:12)

Little Sister

(2:40)
Credits
Sara Mitchel - Songs, vocals, guitar, bass (Quietly Disturbed)
Tim Powles - Kits, beats, boxes and bleeps, bass and erratic guitar (Chief Brush Cleaner)
David Skeet - Guitar, keyboard/synth, bass, beats (Major Chemistry)
Chris Campbell - RockGod guitar on Deep, Hate My Heart, picking on Ragadoll Girl
Radiotronics - William Bowden on Sweet Medicine
Mysterygirl - Keyboards on Strange Train
Nick Larkins - Guitars on Deep, Hate My Heart (Fusionpunkcraphop)
Michael Turner - Guitars on Charlie, Strange Train (Manic and melancholic mexican)
Ken Gormley - Bass on Godshapedhole
Painted and coloured in by: Tim Powles and David Skeet
A Crackerbox/Spacejunk Production (more therapy for the passive aggressive)
Initial sketches by: Sara Mitchel
Pencils sharpened by: Chris Campbell (mostly at the late Karmic Hit Studios)
  Except for: "Away from Me" re-born in the sunroom at 7 Margaret St,
  "Sweet Medicine" delivered by Nicky Turner at Toerag Studios, Northern NSW
Tonal Balance by: Tim Powles at Spacejunk
  except: "Deep" and "Godshapedhole" doctored by David Skeet
  "You Say You've Got The Blues" by Bob Scott at Dodgy Sound
Spanked and Mastered by: William Bowden at Festival Mastering
Photography by: Maia Nielsen
Concept by: Sara Mitchel
Layout by: TQ
  Created in Colour Digital Media
  Karl Logge at spacejunk
Releases
CD - Spacejunk SJ003 (Australia) - April 14, 2003
Notes
From the Spacejunk Media Release:
Self cited as "torch songs with extra kero!" this debut album for singer songwriter Sara Mitchel titled The Grey Room is being spoken about not only around the "rainbow cafes" of Australia but at dinner parties throughout the world and the kero is exploding in a flurry of interest and curiosity. This album is set to entice and touch and move everyone who hears, and those who already have are talking about it.
Sara's lyrical storytelling encapsulates a diverse and honest creative individual. The music is mystical and passionate, at times hard and raw and at others protective and comforting, this, set against Sara's true-life experiences takes a listener on a very, very personal emotional journey. The diverse mix of styles, possess a depth and intimacy that is capturing the ears and hearts of those it encounters. Psychoactively sticky, The Grey Room is set to be the haunting hum in your head that won't let you go, Sara's voice being one that you can ill afford to miss.