SAMORA
Samora is Italian artist and musician Enrico Marani.
LONTANO (2015)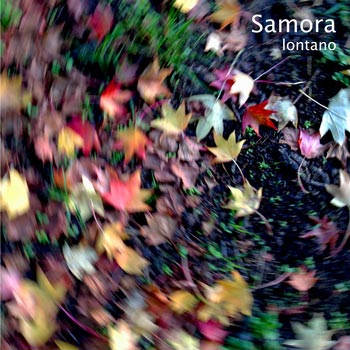 Tracks
Mare Aperto

(4:42)

Oceana

(feat. Steve Kilbey)

(7:26)

 – 
Rouge

(6:08)

The Conversation

(6:15)

Uranium

(4:41)

Paul

(feat. Steve Kilbey)

(5:47)

The Dream

(5:09)

Lontano

(6:59)

 – 
Credits
Enrico Marani - Music
Steve Kilbey - Words and Vocals on "Oceana" and "Paul"
Produced, composed and performed by Enrico Marani during Summer 2013 and Spring 2014
except Steve Kilbey's vocals written, performed and recorded by the author.
Cover photographs by Valeria Pisi.
Design by Anodyne.
Releases
CD-R - Tranquillo Records TRAN005 (Ireland) - Sept. 29, 2014
Digital Download - Tranquillo Records (Ireland) - Sept. 29, 2014, Available at Amazon
Notes
Publicity write-up:
Lontano is a beautiful collection of Ambient compositions that in two tracks feature spoken word poetry by accomplished lead singer of the Australian band the Church, Steve Kilbey. The approach in Lontano is more cinematic than in the past and more linked to images, visual art, and cinema.
Samora provides with Lontano a soundtrack for the mind and creates drifting sounds with drones and noises and a more rhythmic approach with broken patterns and traditional instruments, that make a different approach than the previous album, the unspeakable.
Enrico Marani - After T.A.C. (Tomografia Assiale Computerizzata), the cult post-industrial Italian band, he joined Le Forbici Di Manitù and later founded DuoZero and 2 Blue. He collaborated with musicians such as Ursula Rucker, Tim Motzer, Christine Hanson, DJ Rocca, Maffia Soundsystem, Fabrizio Tavernelli among others. He worked even for art expositions producing soundscapes in collaboration with artists like Andrea Chiesi and Paul Caponigro or for public expositions as Reggio fotografia (vimeo.com/68774578) . As Samora he published with psychonavigation records a previous album the unspeakable.