SCRIBBLE
Scribble (1983-1987) was a post punk synth band formed by Johanna Pigott (co-founder of Australian indie-punk band XL Capris) with session musicians. Although achieving some cult interest there was little commercial success for Scribble. Note: Only those releases which have involvement from Tim Powles are listed here.
POP ART (1986)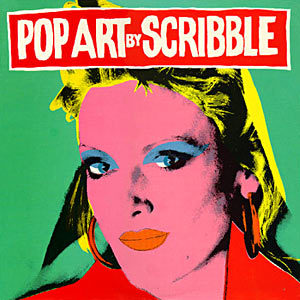 Tracks
Side 1:
Wishing & Hoping
Sunday School

*

 – 
Prettiest Smile

*

Alligator

*

Don't Give Your Heart Away – 
Side 2:
Fool

*

Lies

*

Laws Of Motion

*

The Day Of The Pleasant Surprise

*

Blues Again
Credits
Johanna Pigott - vocals, backing vocals, keyboards, strings
Todd Hunter - keyboards, drum/bass programs, guitars, bass, strings, backing vocals
* Tim Powles - drums, tambourine [on "Sunday School"], tom tom [on "Laws of Motion"]
Lee Borkman - piano, keyboards, kurzweill, bass synth
Mike Caen - guitars, backing vocals
Lin Buckfield - backing vocals
Julie Conway - backing vocals
Michael Rose - Pedal Steel
Dave Dobbyn - guitar
Iva Davies - strings, drum programs, fairlight, backing vocals
Kimble Rendall - backing vocals
Andrew Oh - saxophone
Dave Mason - vocoder, industrial stylings, backing vocals, scream
Zan - backing vocals
Wolfgang - cats
Produced by Johanna Pigott and Todd Hunter
"Wishing & Hoping," "Sunday School," "Prettiest Smile," "Lies" and "Blues Again" mixed by Iva Davies
"Don't Give Your Heart Away" mixed and produced by Iva Davies
Cover Art by Gerard Rouen
Cover Photo by Paul Clarke
Releases
LP - Regular Records L-38549 (Australia) - with lyrics
CASS - Regular Records C-38549 (Australia) - with lyrics
CD - Almacantar Records AR-3950 (Australia) - with lyrics - May 10, 2007
Digital Download - - Available on Apple Music
Notes
Note on LP sleeve: "Tim Powles appears courtesy of Parole Records and Venetians."
Includes this info on Scribble:
SCRIBBLE
Featuring Johanna Pigott.
Johanna Pigott is a stealthy achiever.
Since she began playing music in 1979, she has developed into a highly respected singer, songwriter and musician with a list of credits to her name, amongst them the Dragon hit single "Rain" and the ABC television series "Sweet and Sour."
In 1983, Johanna began 'scribbling,' taking charge of her own songs and seeing them through to vinyl. First of all, Scribble was a studio band, a loose collection of individuals working around Johanna's talents and ideas.
Gradually, Scribble has evolved its own entity, a distinctive sound and style of winsome, witty pop (as evidenced on the So Faralbum, a collection of songs from 1983-85 compiled and released by Regular Records earlier this year); by 1985 it had become, for Johanna, a full time occupation as she set to work arranging and recording and album's worth of songs.
The result is Pop Art, the brand new Scribble LP.
SUNDAY SCHOOL (1986)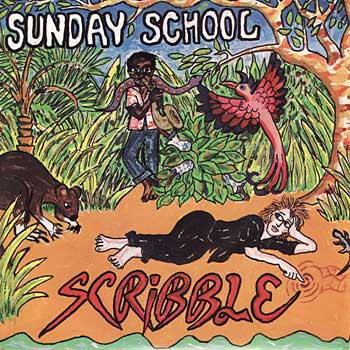 Sunday School
Lowdown
7" - Regular Records K 9964 (Australia & New Zealand) - Limited Edition - April 1986
Notes
Tim Powles is incorrectly credited as "Tim Powells" on the back cover.
ALLIGATOR (1986)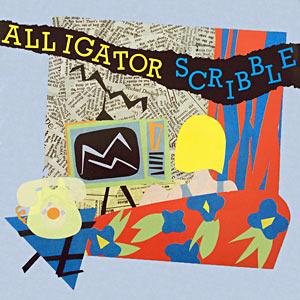 Alligator
Laws Of Motion
7" - Regular Records K 158 (Australia) - Limited Edition - November 1986
Notes
Brief review of the Alligator single by Al Webb that appeared in Juke (Feb. 7, 1987):
"A cruisey slice of pop-art that's in no hurry to get anywhere as it lopes along with a slow and infectious blues feel. Like all Scribble records, borders on irrelevant, but eventually wins out through sheer charm and personality. To me, this song never really fulfills its potential. It could've been a real stunner except for the fact that everyone was so damn civilised and controlled about it."
COMPILATIONS FEATURING TRACKS BY SCRIBBLE
BLUE LIGHT DISCO - DANCE DISC (1986)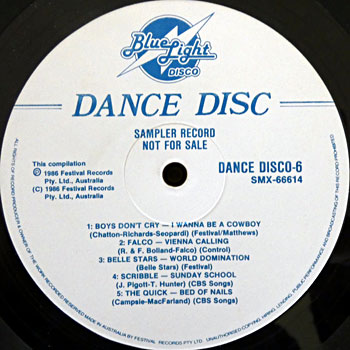 Tracks
Side 1:
Mr. Big - Icehouse
Shell-Shock - New Order
Nasty - Janet Jackson
Out Of Control - Kids In The Kitchen
Peter Gunn - The Art Of Noise feat. Duane Eddy
Side 2:
I Wanna Be A Cowboy - Boy's Don't Cry
Vienna Calling - Falco
World Domination - Belle Stars
Sunday School - Scribble
Bed Of Nails - The Quick
Releases
LP - Blue Light Disco DANCE DISCO-6 (Australia)