WARD 13
Ward 13 was a Sydney-based band from the early 1980s. They released two mini albums, Robot Wizards (1980) and Flash As A Rat (1981), as well as singles for "See Venice And Die" and "Slow Dancing" before Tim Powles joined them in 1982. Ward 13 broke up after their Farewell Party & Show on Dec. 21, 1982, at Players in Paddington Green Hotel, Sydney.
MIDNIGHT CARAVAN (1982)
| | |
| --- | --- |
| | |
| Front Cover | Back Cover |
Midnight Caravan (3:20) – 
Private Eye (3:13)
7" - Mercury Records 6038 060 (Australia) - June 1982
TOO MUCH TALK (1982)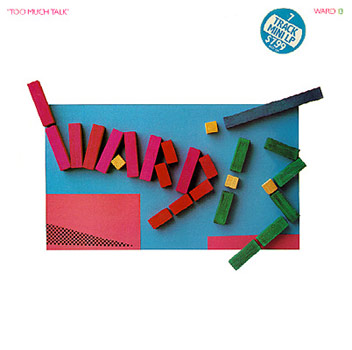 Tracks
Side 1:
Trick Of Time
No Need
Drift Away – 
Lonely For You
Side 2:
Too Much Talk
Deep Freeze
Midnight Caravan – 
Credits
Ron Roberts - Guitar
John Arthurs - Vocals
Steve Lunn - Guitar, Sax
Peter Mullens - Bass, Vocals
Andrew Ross - Keyboards, Sax, Vocals
Tim Powles - Drums
Releases
LP - Mercury Records 6437 160 (Australia) - October 1982
CASS - Mercury Records 7201 160 (Australia) - October 1982
Notes
Back cover includes this photo of the band members: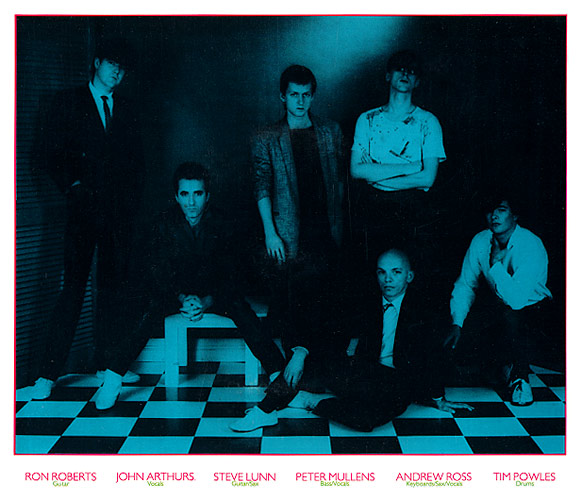 Here are some short news articles about Ward 13 from The Sydney Morning Herald:
From May 23, 1982, p.84 (Sound World by Donnie Sutherland):
While the Mentals take a break, Ward 13 is just getting back into business after a six-month layoff. The group has added two new members and, after a couple of recent performances, the reports I'm hearing say it has never sounded better. It has also changed record companies and the first record for the band's new label will go into the stores in June.
This new Ward 13 single will be called "Midnight Caravan," and it was produced by Dave Marrett, who's recently had success with the song "One Perfect Day" by The Little Heroes.
From Sept. 15, 1982, p.8 (The Arts and Entertainment - Rock by Mark Dodshon):
Ward 13 is also expected to release an EP in the next couple of months but the band is disappointed that their "Midnight Caravan" single, released about three months ago, hasn't attracted more attention. "Midnight Caravan" is possibly the best thing Ward 13 have ever recorded and for those who missed it it's definitely worth a re-listen.
From Oct. 13, 1982, p.8 (The Arts and Entertainment - Rock by Mark Dodshon):
Ward 13, after a long vinyl absence since last year's album, Flash As A Rat, will release a mini-album soon for Polygram, the band's new record company. It will be called Too Much Talk.
From Oct. 31, 1982, p.88 (Leisure - Sound World by Donnie Sutherland):
Ward 13 are having a super bash next Wednesday night in Sydney. The big night of festivities will be held at Players in Paddo to launch the group's mini album titled Too Much Talk. Ward 13's parties are anything but dull and this one will be no exception.
What should interest readers of this column is that everyone is welcome. In keeping with the group's desire to stay close to the marketplace, Ward 13 have asked their record company to throw open the doors and so, even though it is an official media launch for the mini album, all pop punters are invited. It could be a good way to overcome any thick heads we may be suffering after the Melbourne Cup celebrations the previous night.