LAUREL CANYON (2015)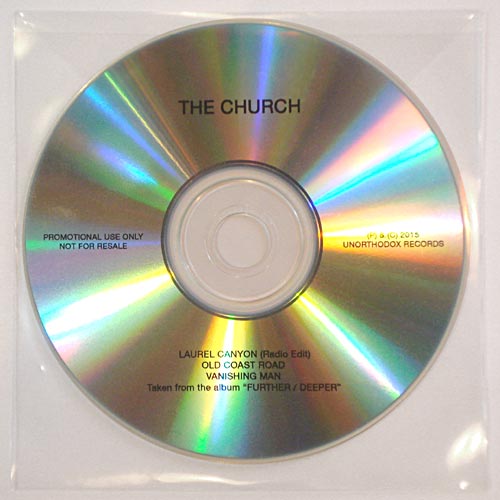 Releases
CD-R - Unorthodox [no catalog number] (UK Promo) - PVC sleeve, no artwork
Notes
Some have a sticker with this text:
The cult Australian band release a new studio album 'Further/Deeper' & tour Europe, including two UK shows. This EP features three tracks taken from the album with Laurel Canyon taking the lead. The Church's accidental signature tune is 'Under The Milky Way' & they've released 25 albums over 35 years & had countless diversions that have almost destroyed them a dozen times. The album is released on Unorthodox Records. Mike Joyce, Andy Rourke and Johnny Marr were inspired to form The Smiths after seeing The Church play at Leadmill, Sheffield in 1982! Please note Vanishing Man contains the word 'bastard'. Single: 27 JULY 2015
Since some tracks on Further/Deeper overlapped without clean track breaks, the cut-off at the end of "Old Coast Road" is abrupt (it fades into "Lightning White" on the album), and at the end of "Vanishing Man" you can hear the very start of "Delirious."