REPTILE (1988)
Reptile (4:56)
Texas Moon (5:37)
7" - Mushroom K-574 (Australia) - Limited Edition green vinyl, 7mm center hole, clear plastic sleeve with sticker - Front
7" - Mushroom K-574 (Australia) - black vinyl, 7mm center hole, plain sleeve - rarer than green vinyl version
Reptile (4:56)
Under The Milky Way (Acoustic Version) (4:02)
Tantalized (3:58)
7" - Arista AS1-9733 (USA) - 38mm/1.5" center hole - Front
CASS - Arista CAS-9733 (USA) - both sides feature all three tracks, in cardboard slipcase - Front
Reptile (Edit) (3:56)
Reptile (4:56)
7" - Arista AS1-9733 (USA Promo) - 38mm/1.5" center hole
Reptile (Rock Radio Remix) (4:44)
  Track repeated on Side B
12" - Arista ADP-9718 (USA Promo) - 33⅓ rpm - Front
Back of sleeve lists stops on "The Church North American Tour (Phase One)" May 8 - June 23, 1988.
Promotional Items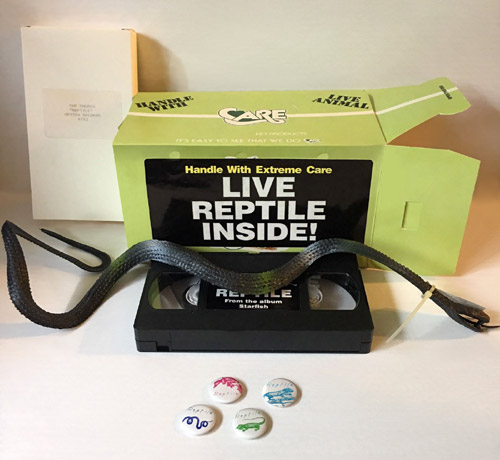 An Arista Reptile promo box was distributed to radio stations. It contained the following:
a VHS cassette tape of the Reptile video Photo
a rubber snake with an attached card
some Reptile buttons Photo
Sheet Music, Tablature, Chords, etc.
Guitar For The Practicing Musician - March 1989: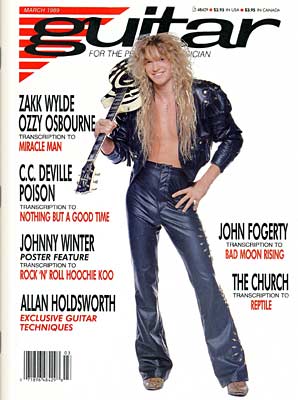 Cherry Lane Music (Barcode: 0 71896 48429 8)
Includes guitar and bass tablature for "Reptile".

Reptile Video



Reptile
Live on Italian TV - 1988

Reptile
Live at the Enmore Theatre, Sydney - Dec. 17, 2011

Texas Moon
(audio only)