TANTALIZED (1986)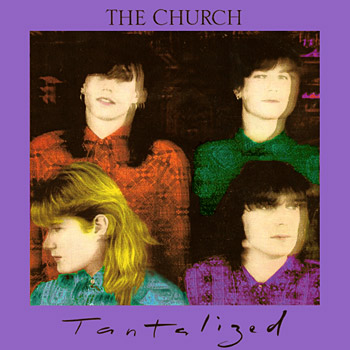 Tantalized (3:58)
The View (3:38) (sung by Marty Willson-Piper)
7" - EMI Parlophone A-1665 (Australia) - January 1986
7" - EMI Parlophone A-1665 (Australia Promo) - Label
7" - EMI Parlophone A-1665 (EMI 5557 on sleeve) (Australia) - January 1986
7" - EMI EMI 5557 (UK) - April 1986
7" - EMI 1C 006 20 1130 7 (Europe) - April 1986 - 38mm/1.5" center hole
7" - EMI Hispavox 545 20 1130 7 (Spain) - April 1986
7" - EMI 06 2011307 (Italy) - April 1986
7" - EMI 1A 006 20 1130 7 (EMI 006 20 1130 7 on sleeve) (Netherlands) - April 1986 - altered sleeve (photo reversed, white text) - Cover
7" - EMI 201 130-7 (Germany) - April 1986
Notes
Review from Kerrang!:
THE CHURCH: 'Tantalised' (Parlophone)
Aussie four-piece who look as though they probably listen to the Cult. Difficult to put a finger on just what it is about this song that makes it so damn catchy, but I dare say I'm going to end up really liking it.
A Strangely modern-sounding branch of psychedelia, it belts along with the 'abandon' you get from the Long Ryders, but 'fired' with an irresistibly sing-along chorus.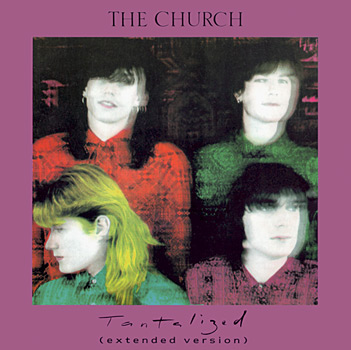 Tantalized (Extended Version) (4:53)
The View (3:40) (sung by Marty Willson-Piper)
As You Will (4:45) (sung by Peter Koppes)
12" - EMI 12EMI 5557 (UK) - April 1986 - 45 rpm
12" - EMI 1C K 060 20 1131 6 (Europe) - April 1986 - Maxi-Single, 45 rpm
12" - EMI Electrola 20 1131 6 (Germany) - April 1986 - 45 rpm
12" - EMI Electrola 20 1131 6 (Germany) - March 20, 1986 - Test Pressing - 45 rpm
12" - EMI 14 2011316 (Italy) - April 1986 - 45 rpm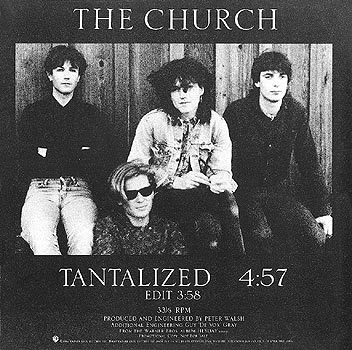 Tantalized (4:57)
Tantalized (Edit) (3:58)
12" - Warner Bros PRO-A-2428 (USA Promo) - 1986 - 33⅓ rpm
CASS - EMI "Abbey Road Custom Cassette" (UK) - 1986, in plain sleeve
UK Print Ad (advertising the May 13 & 14, 1986 shows at London's Marquee in fine print):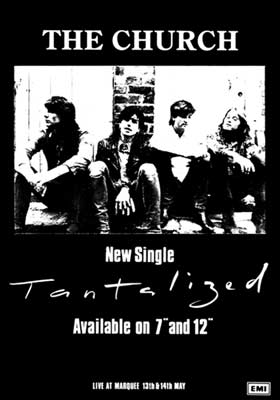 Tantalized Video

Tantalized
with the George Ellis Orchestra
Live at ARIA Hall of Fame Induction - Oct. 27, 2010

Tantalized
"A Psychedelic Symphony" with The George Ellis Orchestra
Live at the Concert Hall, Sydney Opera House - Apr. 10, 2011

The View
(audio only)

As You Will
Fan Video by David Duchow