TOO FAST FOR YOU / TEAR IT ALL AWAY (1981)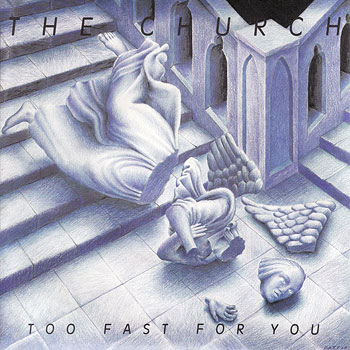 Too Fast For You (3:28)
Sisters (4:05)
Tear It All Away (4:10)
You've Got To Go (2:33)
Fraulein (2:59)
2x7" - EMI Parlophone A-536 & A-525 (Australia) - July 13 or Aug. 31, 1981 - gatefold picture sleeve, 7mm center holes  Back
2x7" - EMI Parlophone A-536 & A-525 (Australia Promo) - plain sleeves, white labels (raised centers), 7mm center holes
Credits
Richard Ploog - Drums on "Too Fast For You," "Sisters," and "Tear It All Away."
Nick Ward - Drums on "You've Got To Go" and "Fraulein."
Produced by Chris Gilbey and Bob Clearmountain
Recorded and mixed at Studios 301
Engineered by John Bee
Cover artwork by Paul Pattie
Photography by Don Bruner
Notes
The first 5,000 copies of the Parlophone "Too Fast For You" and "Tear It All Away" singles were packaged together in this special gatefold package, with the complete lyrics printed inside.
This review of the double-single by Stuart Coupe appeared in the Aug. 30, 1981, Sydney Morning Herald:
Last week I had a preview of The Church's double EP, Too Fast For You, and it's magnificent — better even than the debut album.
Too Fast For You, due for release tomorrow, contains besides the title song four others — Sisters, Tear It All Away, You've Got To Go and Fraulein.
Sisters is the first song from The Church written by all members of the band. The rest are by lead singer and bass player Steve Kilbey.
The band has refined its sound and the result is a delightful mixture of soaring harmonies, strong songs, jangling guitars, and memorable melodies.
Too Fast For You costs $2.99 and is an essential purchase. Watching the development of The Church is one of the most exciting aspects of Australian rock 'n' roll.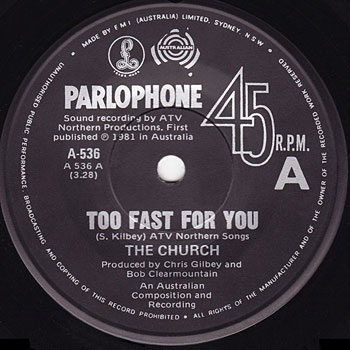 Too Fast For You (3:28)
Sisters (4:05)
7" - EMI Parlophone A-536 (Australia) - July 13 or Aug. 31, 1981 - generic red EMI sleeve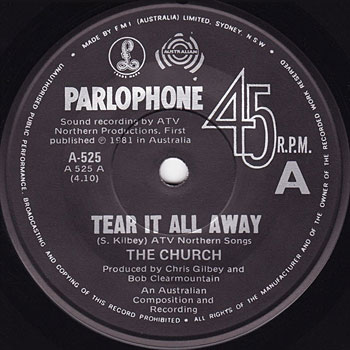 Tear It All Away (4:10)
You've Got To Go (2:33)
Fraulein (2:59)
7" - EMI Parlophone A-525 (Australia) - July 13 or Aug. 31, 1981 - generic red EMI sleeve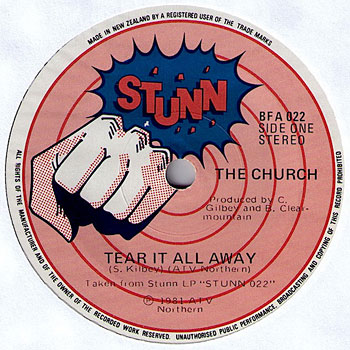 Tear It All Away
She Never Said
7" - Stunn BFA 022 (New Zealand) - 1981 - plain sleeve
    Side One Label Error: 'Taken from Stunn LP "STUNN 022"' (should read "THE CHURCH")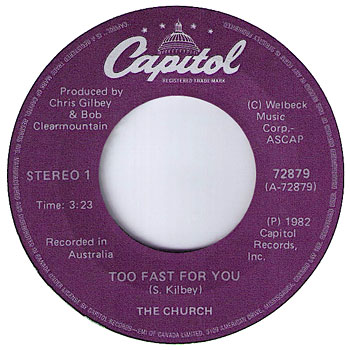 Too Fast For You (3:23)
Chrome Injury (4:02)
7" - Capitol 72879 (Canada) - 1982 - 38mm/1.5" center hole - generic Capitol Records sleeve
A promotional poster was distributed by Parlophone: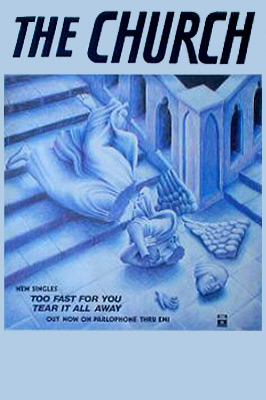 Too Fast For You Video

Tear It All Away Video

Too Fast For You
"Live" on Countdown

Tear It All Away
"Live" on Adelaide TV, mid-1981

Sisters
Fan Video by David Duchow

You've Got To Go
(audio only)

Fraulein
Fan Video by David Duchow