JEFFREY CAIN SOLO WORK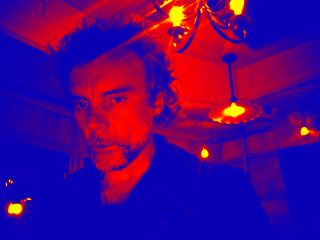 Jeffrey Cain is "a surrealist composer, reclusive audio archivist, and a reluctant rock guitar player. Born in America in 1972, Cain now lives, writes and records in Birmingham, Alabama in a house filled with ancient machines and a piano. He has released his dark fractured music since the age of 15, and is best known for the recordings of his childhood band Remy Zero and his work with Steve Kilbey of The Church under the name Isidore. Acoustic Guitars, Walls of feedback, tambourines, and drum machines sleep side by side throughout his music. Shifting from 3 minute pop songs to 15 minute ambient trips, all things are possible. Outside the realm of rock music he has collaborated in the electronic world with artists such as Tricky, Afrobots, O+S, and The Engine Room (penning the theme to Nip/Tuck and being remixed by Gabriel and Dresden)." [Communicating Vessels].
Jeffrey was officially announced as a member of The Church in January, 2020, though he has toured with them since September, 2017. He has released solo material under the moniker Dead Snares.