HARD ATTACK ALTERNATIVE CD SAMPLER VOLUME 6 - FALL 1989 (1989)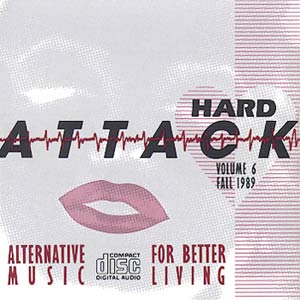 Tracks
Shouting Street

(3:23)

- Joe Strummer
Regina

(4:06)

- Sugarcubes
Any Cure

(3:46)

- Subdudes
(All I Want Is) Everything

(2:59)

- Boo & Darden
Kingdom of Rain

(5:53)

- The The
Fireman

(4:46)

- Steve Kilbey
Waking Up In The Sun

(3:51)

- Adult Net
Black Sheep Wall

(4:20)

- Innocence Mission
Blow Me Up

(3:56)

- Will And The Bushmen
Body's In Trouble

(5:01)

- Mary Margaret O'Hara
Welcome To The Real World

(4:59)

- Jane Child
I Want That Man

(3:44)

- Debbie Harry
Welcome To America

(4:57)

- Die Warzau
Last Cigarette

(4:56)

- Dramarama
Do You Want To Tell Me?

(3:35)

- The Grapes Of Wrath
Living With The Dreaming Body

(3:55)

- Poi Dog Pondering
Higher Ground

(3:25)

- Red Hot Chili Peppers
Hello There

(1:46)

- Bullet LaVolta
Releases
CD - Hard Report (USA Promo)
Notes
Includes this write-up on Steve:
"Slow Crack" is the title of Steve Kilbey's third solo album, and another delightful effort that's tucked away from the notoriety of his successful band, The Church. Pursuing the sensitive, thoughtful aspects of his poetic craft, once again the bedroom studio serves as the birthplace for the serene music he loves most. "Fireman" soothes and sways listeners into a state of happiness, but it's not without a lasting effect. Kilbey's music has the ability to outshine his fluff-pop contemporaries with slender edge and a signature sound that he's worked long and hard to polish.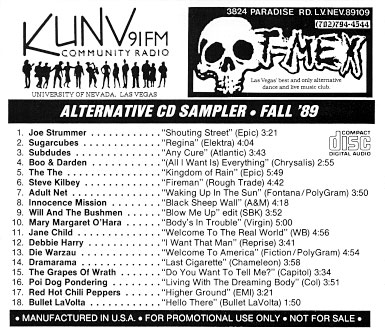 The Hard Attack CD series was produced by The Hard Report, Inc., publishers of a weekly magazine. Radio stations that subscribed to "The Hard Report" magazine could arrange to have copies of the CDs manufactured with custom graphics. This particular CD was customized for stations like KUNV 91FM Community Radio at the University of Nevada in Las Vegas (above) and KCPR 91.3FM at California Polytechnic State University (Cal Poly at San Luis Obispo), San Luis Obispo, California.