THE ROCKWIZ DUETS VOLUME III: THE BEAT GOES ON (2009)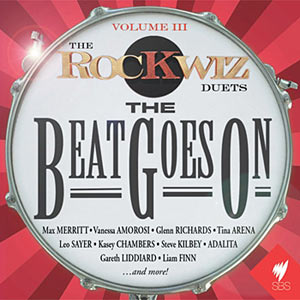 Tracks
Intro

(0:18)

Get Off Of My Cloud

(3:07)

- Vanessa Amorosi & Ashley Naylor
Time Has Come Today

(2:38)

- Paris Wells & Barrence Whitfield (feat. Joshua Taveres on backing vocals)
Streets Of Your Town

(2:52)

- Sophie Koh & Steve Kilbey – 
Slippin' Away

(4:43)

- Catherine Britt & Max Merritt
Some Velvet Morning

(3:26)

- Amanda Brown & Glenn Richards
Don't Give Up

(5:36)

- Tina Arena & Jeff Martin
Time To Pretend

(3:44)

- Patience Hodgson & Broderick Smith
Let's Stay Together

(3:45)

- Abby Dobson & Rai Thistlethwayte
When I Need You

(3:44)

- The Wolfgramm Sisters & Leo Sayer
Suspicious Minds

(3:28)

- Kylie Auldist & Tony Hadley (feat. Paul Williamson on sax and Ross Irwin on trumpet)
Something In The Air

(3:25)

- Karina Utomo & Steve Lucas
To Love Somebody

(3:07)

- Eve Von Bibra & Jed Kurzel
Can't Get You Out Of My Head

(3:31)

- Kasey Chambers & Shane Nicholson
Killing The Blues

(3:37)

- Liz Stringer & Dan Wilson
Old Man

(2:57)

- EJ Barnes & Liam Finn
Sometimes Always

(2:29)

- Sarah Kelly & Toby Martin
1-2-3

(2:51)

- Stephanie Dosen & Billy Miller
Sinister Purpose

(3:35)

- Abbe May & Dom Mariani
Messin' With The Kid

(4:09)

- Adalita & Gareth Liddiard
The Beat Goes On

(3:45)

- Jess McAvoy & Charles Jenkins
Releases
CD - Renegade Films/SBS Independent/Liberation Music LMCD0091 (Australia) - Nov. 6, 2009
A RocKwiz Duets Volume III DVD was also produced: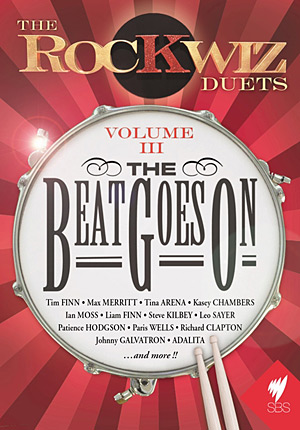 Tracks
The Beat Goes On - Jess McAvoy & Charles Jenkins
Can't Get You Out Of My Head - Kasey Chambers & Shane Nicholson
Streets Of Your Town - Sophie Koh & Steve Kilbey – 
Something In The Air - Karina Utomo & Steve Lucas
Sinister Purpose - Abbe May & Dom Mariani
Slippin' Away - Catherine Britt & Max Merritt
When I Need You - The Wolfgramm Sisters & Leo Sayer
Time To Pretend - Patience Hodgson & Broderick Smith
Sometimes Always - Sarah Kelly & Toby Martin
Comes A Time - Taasha Coates & Pete Murray

*

Hold The Line - Wendy Matthews & Johnny Galvatron

*

With A Little Help From My Friends - Jackie Marshall & Colin Hay

*

Just What I Needed - Amandah Wilkinson & Dominic Byrne

*

Suspicious Minds - Kylie Auldist & Tony Hadley
To Love Somebody - Eve Von Bibra & Jed Kurzel
Killing The Blues - Liz Stringer & Dan Wilson
Don't Give Up - Tina Arena & Jeff Martin
Monday Morning - Elana Stone & Kram

*

Some Velvet Morning - Amanda Brown & Glenn Richards
Messin' With The Kid - Adalita & Gareth Liddiard
Can't Stand Losing You - Sianna Lee & Phil Jamieson

*

I Shall Be Released - Lilith Lane & Tim Finn

*

Time Has Come Today - Paris Wells & Barrence Whitfield
Let's Stay Together - Abby Dobson & Rai Thistlethwayte
A Change Is Gonna Come - Ian Moss & Natalie Pa'apa'a

*

Gimme Shelter - Penny Ikinger & Kevin Borich

*

I'll Be Your Baby Tonight - Gina Jeffreys & Doc Neeson

*

Slice Of Heaven - Anika Moa & Dave Dobbyn

*

There Is A Light That Never Goes Out - Laura Jean & Ned Collette

*

Rain - Sharon O'Neill & Dann Hume

*

Old Man - EJ Barnes & Liam Finn
1-2-3 - Stephanie Dosen & Billy Miller
Killing Floor - Abbe May & Paul Gray

*

Get Off Of My Cloud - Vanessa Amorosi & Ashley Naylor
Dead Flowers - Ella Thompson & Richard Clapton

*
* Not on CD version.
Releases
DVD - Renegade Films/SBS Independent/Liberation Music LIBDVD1104 (Australia) - PAL - Nov. 6, 2009
Notes
RocKwiz is an Australian music quiz show recorded live in the Gershwin Room of Melbourne's Esplanade Hotel, hosted by Julia Zemiro, and broadcast on SBS One. Each show explores the weird and wonderful world of rock'n'roll. Two teams compete, including captain, audience members with proven rock brain credentials and singers. The two singers, emerging from behind plush velvet curtains perform a song each and join the fun when they are correctly identified from a set of cryptic clues. The game proceeds and climaxes with the singers performing a duet, backed by the RocKwiz Orkestra.
Steve Kilbey appeared on the show in 2008, competing against a team featuring singer Sophie Koh. The episode was recorded April 22, 2008, and first aired on September 6, 2008. Sophie Koh previously appeared on the show in 2005 with Jimmy Little (performing "Happy Together").
Steve appeared on the show again in 2010 (recorded on March 20), performing "Under Pressure" with Clare Bowditch.
The "RocKwiz Duets Volume III: The Beat Goes On" CD was included as disc 3 of this 3 disc set:
THE ROCKWIZ DUETS COLLECTORS' EDITION (2010)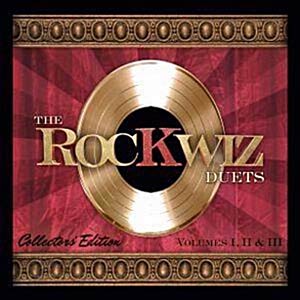 Tracks
CD 1:
RocKwiz Theme

(0:41)

- RocKwiz Orkestra
It Takes Two

(3:13)

- Kim Salmon & Jodi Phillis
Private Number

(3:08)

- Linda Bull & Glenn Tilbrook
This Mess We're In

(3:41)

- Paul Kelly & Katy Steele
Sundown, Sundown

(2:41)

- Sarah Blasko & Mick Harvey
Stray Cat Blues

(3:28)

- Chris Cheney & Chrissy Amphlett
Gonna Take Some Time

(4:39)

- Jimmy Barnes & Mahalia Barnes
Long Distance Love

(2:49)

- Stephen Cummings & Tania Doko
Woodstock

(3:58)

- James Reyne & Mia Dyson
My Boyfriend's Back

(3:11)

- Chris Bailey & The Spazzys/Kat Spazzy
Highway To Hell

(3:26)

- Angry Anderson & Sarah McLeod
Slave To Love

(4:03)

- Dan Kelly & Martha Wainwright
Islands In The Stream

(3:32)

- Troy Cassar-Daley & Ella Hooper
Dixie Chicken

(3:41)

- Davey Lane & Venetta Fields
Take Me To The River

(2:58)

- Ross Wilson & Nessa Morgan
You've Got To Love Somebody

(3:21)

- Christine Anu & Joe Camilleri
Stop Dragging My Heart Around

(4:09)

- Tim Rogers & Rebecca Barnard
Jackson

(2:44)

- Dave Larkin & Vika Bull
Love Hurts

(2:57)

- Tex Perkins & Deborah Conway
CD 2:
RocKwiz Theme

(0:17)

- RocKwiz Orkestra
Hush

(4:00)

- Russell Morris & Melinda Schneider
Under The Milky Way

(4:58)

- Sean Kelly & Anne McCue – 
Careless Whisper

(3:23)

- Paul Dempsey & Kate Miller-Heidke
Heart Of Gold

(3:16)

- Lior & Serena Ryder
From Little Things (Big Things Grow)

(5:03)

- Archie Roach & Sara Storer
Across The Universe

(4:33)

- Liam O'Maonlai & Eddi Reader
If I Were A Carpenter

(2:49)

- Jen Cloher & Ron Peno
Ooh Las Vegas

(3:30)

- Sarah Lee Guthrie & Chris Wilson (with Johnny Irion)
Long Time Gone

(2:43)

- Neko Case & Josh Pyke
Flesh And Blood

(3:56)

- Mary Black & Shane Howard
Ain't Nothing Like The Real Thing

(2:29)

- Kate Ceberano & Eran James
Love Lots Of Lovin'

(2:48)

- Betty Harris & John Paul Young
Takin' It To The Streets

(3:40)

- Deni Hines & Michael Spiby
Good Year For The Roses

(3:33)

- Beccy Cole & Mark Lizotte
Wild Horses

(5:03)

- Taasha Coates & Gareth Liddiard
Heroes

(4:28)

- Adrian Belew & Martha Wainwright
Candy

(4:09)

- Chris Ballew & Chelsea Wheatley
Hard Road

(3:17)

- Leanne Kingwell & Matt Taylor
CD 3:
Intro

(0:18)

Get Off Of My Cloud

(3:07)

- Vanessa Amorosi & Ashley Naylor
Time Has Come Today

(2:38)

- Paris Wells & Barrence Whitfield (feat. Joshua Taveres on backing vocals)
Streets Of Your Town

(2:52)

- Sophie Koh & Steve Kilbey – 
Slippin' Away

(4:43)

- Catherine Britt & Max Merritt
Some Velvet Morning

(3:26)

- Amanda Brown & Glenn Richards
Don't Give Up

(5:36)

- Tina Arena & Jeff Martin
Time To Pretend

(3:44)

- Patience Hodgson & Broderick Smith
Let's Stay Together

(3:45)

- Abby Dobson & Rai Thistlethwayte
When I Need You

(3:44)

- The Wolfgramm Sisters & Leo Sayer
Suspicious Minds

(3:28)

- Kylie Auldist & Tony Hadley (feat. Paul Williamson on sax and Ross Irwin on trumpet)
Something In The Air

(3:25)

- Karina Utomo & Steve Lucas
To Love Somebody

(3:07)

- Eve Von Bibra & Jed Kurzel
Can't Get You Out Of My Head

(3:31)

- Kasey Chambers & Shane Nicholson
Killing The Blues

(3:37)

- Liz Stringer & Dan Wilson
Old Man

(2:57)

- EJ Barnes & Liam Finn
Sometimes Always

(2:29)

- Sarah Kelly & Toby Martin
1-2-3

(2:51)

- Stephanie Dosen & Billy Miller
Sinister Purpose

(3:35)

- Abbe May & Dom Mariani
Messin' With The Kid

(4:09)

- Adalita & Gareth Liddiard
The Beat Goes On

(3:45)

- Jess McAvoy & Charles Jenkins
Releases
3CD - Renegade Films/SBS Independent/Liberation Music LMCD??? (Australia) - Limited Collectors Edition, slipcased - May 28, 2010