ROCKWIZ NATIONAL TOUR 2010 (2010)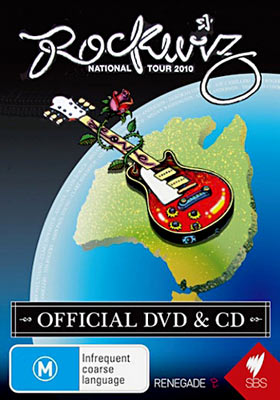 CD Tracks
Good Times - Vika Bull, Steve Kilbey & Henry Wagons
No Matter What - Dom Mariani
(I'm Not Your) Steppin' Stone - Ella Hooper & Russell Morris
Time - Holiday Sidewinder
Save The Last Dance For Me - Deborah Conway & Joe Camilleri
Dallas - The Flatlanders
Werewolves of London - RocKwiz Orkestra
Sweet Guy - Vika Bull
The Boat That I Row - Holiday Sidewinder
Portland Oregon - Jen Cloher & Andrew Morris
Because The Night - Adalita & Clare Bowditch
Under Pressure - Vika Bull & Steve Kilbey
I Don't Wanna Know - Warren Storm
Pale Blue Eyes - Holiday Sidewinder & Dave Faulkner
Ooh La La - Megan Washington & Angry Anderson
St Louis - Adalita, John Paul Young & Kevin Borich
Ballroom Blitz - Holiday Sidewinder, Dave Faulkner, Ella Hooper & Angry Anderson
Come On Up To The House - The RocKwiz Orkestra, Brian Nankervis & Julia Zemiro
DVD Tracks
  RocKwiz Live Toowoomba Special
  RocKwiz Live On The Road Special
  Bonus Extras - 10 Live Songs from the Tour:
Because the Night - Adalita & Clare Bowditch - Melbourne
(I'm Not Your) Steppin' Stone - Ella Hooper & Russell Morris - Launceston
Want Everything - Ella Hooper - Hobart & Launceston
Pale Blue Eyes - Holiday Sidewinder & Dave Faulkner - Hobart
The Real Thing - Russell Morris - Hobart
Nutbush City Limits - Vika Bull & Henry Wagons - Gladstone
Under Pressure - Vika Bull & Steve Kilbey - Melbourne
I Don't Wanna Know - Warren Storm - Byron Bay
Ooh La La - Angry Anderson - On the Bus, Newcastle to Sydney
Werewolves of London - The RocKwiz Orkestra - Wollongong
Releases
CD + DVD (PAL, Region 4) - Renegade Films/SBS Corporation/Liberation Music LIBDVD1110 (Australia) - Oct. 29, 2010
Notes
Show blurb:
RocKwiz is an Australian music quiz show recorded live in the Gershwin Room of Melbourne's Esplanade Hotel, hosted by Julia Zemiro, and broadcast on SBS One. Each show explores the weird and wonderful world of rock'n'roll. Two teams compete, including captain, audience members with proven rock brain credentials and singers. The two singers, emerging from behind plush velvet curtains perform a song each and join the fun when they are correctly identified from a set of cryptic clues. The game proceeds and climaxes with the singers performing a duet, backed by the RocKwiz Orkestra.
Steve Kilbey appeared on the show in 2008 and performed "Streets of Your Town" (The Go-Betweens song) with Sophie Koh. Steve appeared on the show again in 2010 (recorded on March 20), performing "Under Pressure" (Queen song) with Clare Bowditch.
In 2010 the show went on a National Tour across Australia. Steve Kilbey performed at the last two shows of the tour, at the Palais Theatre in Melbourne on June 15 & 16, covering the Queen song "Under Pressure" with Vika Bull.
The RocKwiz Orkestra consisted of James Black, Mark Ferrie and Peter Luscombe with Ashley Naylor.