CTHULHU DEEP DOWN UNDER VOLUME 3 (2021)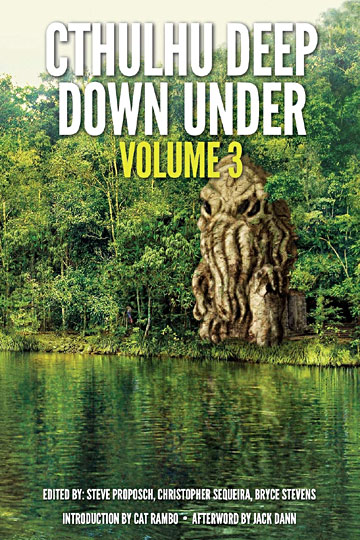 Contents:
Introduction - Cat Rambo
All The Long Way Down - Alf Simpson
Farewell To Elephant - Cat Sparks
The Third Party Doctrine - Steve Proposch
Come His Children - Alan Baxter
The Depiction - Julie Ditrich
The Key To Eternity - Steven Paulsen
They Are Impatient - Maurice Xanthos
Dead Language - Steve Kilbey
Asleep Beneath The Dripping - Jason Fischer
Supersymmetry Blues - David Conyers
Afterword: I'm Looking Right At You, H. P. Lovecraft - Jack Dann
Description on Back Cover
In the story that first established the monstrous cosmic terrors of his Mythos writer H. P. Lovecraft said "We live on a placid island of ignorance in the midst of black seas of infinity..."
Which makes it all the more fitting that the adepts of Lovecraft's vision writing today would choose to unveil ever-evolving and terrible fears besetting those that live on the largest island on the planet, and force the protagonists of some startling new horror fiction tales in this book to face, indeed, not placidity, but their own black seas of infinity...and madness.
Again, some of the greatest scribes of the weird and startling from the land down under bring you brand new stories in the Lovecraftian genre, taking you from the realms of contemporary Australian cities, to the blood-soaked, post-colonial past (touching the powerful original cultures of the land), and even hinting at the disturbing future of Terra Australis.
You will fear a sunburnt country.
Tales of terror by Alan Baxter, David Conyers, Julie Ditrich, Jason Fischer, Steve Kilbey, Steven Paulsen, Steve Proposch, Alf Simpson, Cat Sparks, Maurice Xanthos. Introduction by Cat Rambo and Afterword by Jack Dann.
Includes this biography of Steve Kilbey:
Steve Kilbey was born in England in 1954. He migrated to Australia in 1957 and lived in Wollongong (where his story is set) until he was nine. In 1981 his band The Church broke through to international acclaim and have since sold well over one and [a] half million records worldwide. He is a songwriter, singer and bass guitarist as well as a writer with a number of books out there alongside many articles and even more blogs. A fan of Lovecraft and all weird fiction (and fact), a big fan of Houdini, too, and his book Magician Among the Spirits. Kilbey believes we are all only the tiniest change of a channel (brought on by drug, dream, trauma, hypnosis, meditation, yoga, etc.) away from a thousand other realities, some more real than this reality (which is really unstable). He lives alone in Sydney with his one bonsai plant which doesn't even have a name.
Releases
Paperback - IFWG Publishing International, ISBN: 978-1-925956-63-4, 15.2 cm x 22.9 cm, 248 pages (Australia) - June 30, 2021
Notes
Edited by Steve Proposch, Christopher Sequeira and Bryce Stevens. Cover art by Steve Santiago.