EARTHED, NINEVEH & THE EPHEMERON (2004)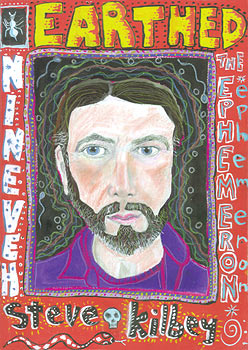 This book is a collection of his two previously published books. The softcover version has a custom cover painted by Steve Kilbey. Dust jackets for the hardcover versions, intended to have the same artwork as the softcover version, were never produced.
Releases
Paperback - Impressed Publishing, ISBN 0-9751618-9-X, 212mm x 150mm, 127 pages (Australia)
Hardback - Impressed Publishing, ISBN 0-9756726-0-6, 217mm x 154mm, 127 pages (Australia) - Limited Numbered Edition of 50 signed copies
Notes
In April 2005, Karmic Hit sold 20 hardcover copies of this book, each with its own unique, hand-written, never before published poem by Steve Kilbey written inside. A couple of weeks later Karmic Hit made available 20 softcover copies, each also containing a unique, hand-written poem by Steve.