ELEVEN WOMEN (2020)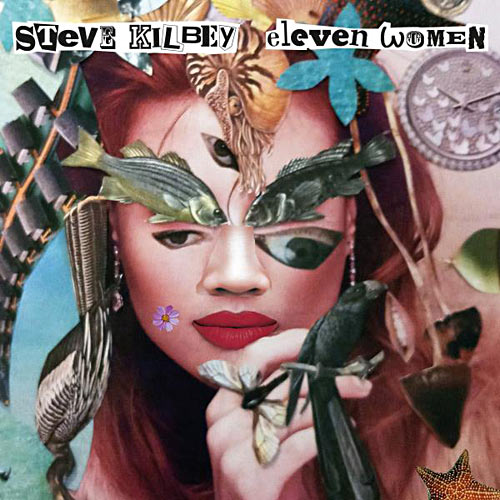 Credits
SK : vox humanis, fender jazz bass, 12 string guild acoustic, electric guitar
Gareth Koch : spanish guitar, electric guitar on track 9, bass guitar on track 1 and track 11
Roger Mason : piano, organ, synth, hurdy gurdy, nyckelharpa
Barton Price : drums and percussion
All songs by SK
Produced by SK
Engineered and mixed by Andrew Beck
Mastered by William Bowden
Recorded at Damien Gerard Studio Gosford
Cover collage by Christiana Monored
I would like to thank all the people who chucked in money for my PayPal performances without whom this record literally would not have been made. Please give yourselves a hearty pat on the back.
Financial advice Dave Rundle
Musical advice George Ellis
Spiritual advice Rachel Poh
General advice Marshall Cullen
I'd also like to mention
My 2 patrons KLK and Kip MC
This record is dedicated to my mother Joyce Bennett and a hope there will be a cure for alzheimers disease soon!
And to my father Les Kilbey wherefrom all the music came.
I love you all so much!
SK coogee august 2020
Releases
CD - Foghorn Records FOG501 (Australia) - Sept. 4, 2020 - Available direct from Steve Kilbey and at MGM
Digital Download & Streaming - Foghorn Records (Australia) - Sept. 4, 2020 - Available on Multiple Platforms
Notes
Foghorn Records Press Release (Aug. 20, 2020):
Steve Kilbey has created a fine new album for 2020. His first solo release for an astoundingly creative year reveals a dazzling array of songs brimming with ideas, personality & effervescence. The collection is at once whimsical yet personal, and in a masterful sleight of hand Kilbey's Eleven Women are not quite as one might expect.
The album leads us through a shimmering whirlwind of encounters. After the disarming love song Baby Poe we are plunged headlong into the dark world of Doris McAllister, an evil witch who takes us 'by the bells'. We are regaled by the Celtic wistfulness of Josephine as she forbearingly awaits her 'wine & roses' while Birdeen, a greedy lorikeet with a sweet tooth, beguiles us with infectious bounce & colour.
Eleven Women is full of melodic invention & lyrical surprises. Singling out tracks for special mention is frankly impossible since this album consists entirely of highlights. Amongst these bijous however the timelessly beautiful Think of You shines brightly. This song has the unmistakeable stamp of eternity & evokes a sense of having existed since music began.
From the album's opening salvo it is clear we are in the most capable of hands. Steve Kilbey is a veteran song writer at the very height of his creative powers.
In his Oct. 12, 2020 Instagram Live living room show, after playing "Think of You," Steve said Jessie Bellette was his dad's mother.
Reviews & Comments