GARAGE SUTRA (2012)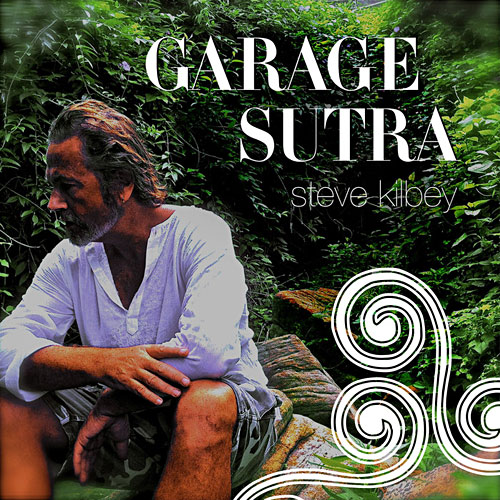 Credits
Written, composed, recorded, produced, mastered & all those other bits too, in a colossal ego trip by Steve Kilbey 2012
Photography & design by Samantha Mayfair
Distributed by The Time Being Records
www.thetimebeing.com
Releases
CD-R - The Time Being Records (Self-released) [no catalog number] (Australia) - July 12, 2012 - cardboard sleeve - signed edition of 100
Digital Download - Self-released (Australia) - July 12, 2012 - Available on Bandcamp
Streaming - Available on Spotify
Notes
Steve introduced this album on his blog on July 12, 2012.
Marketing blurb:
In 2009 Steve Kilbey undertook his Garage Sutra. A man, a 12 string guitar, a laptop, a computer program and some divine intervention. The Garden of Gilgamesh, Ancient World and Nineveh are reminiscent of ancient times. A summer in Sumer or Babylonia perhaps? Yes Steve is still carrying a torch for his era.
Giving out songs as Vishnu gives out planets, every song here is a self-contained universe. Playful digital prisms containing darkness and light, containing, in his words - utter nonsense, yet the listener will discover most poignant utterings. This is as valid a solo album as Steve has ever made. Stand back, listen and be transported.
CD art comes to you as a 'Green Forestry Sleeve'. Made with 100% Green Forestry Practices Certified board only and using 100% vegetable inks. We here at TTB Headquarters care about what happens to our planet.
From PopMatters:
Here's a homemade demo album with a twist; one made entirely with GarageBand. Steve Kilbey of the Church is largely a self-taught artist. When it comes to singing, songwriting, home recording and painting, he preferred to teach himself the ins and outs of it all. Kilbey dove into the recording software GarageBand armed with only a laptop, a mic and a 12-string guitar. The songs on Garage Sutra appeared on Kilbey's blog during the month of September of 2009 as a way of celebrating his 55th birthday. Now these songs are available on both CD and MP3 formats, though the former might be sold out for the moment. Fear not, Garage Sutra is available from Kilbey's Bandcamp site.
Reviews & Comments