GERSEY "STORMS DRESSED AS STARS" LINER NOTES (2005 Reissue)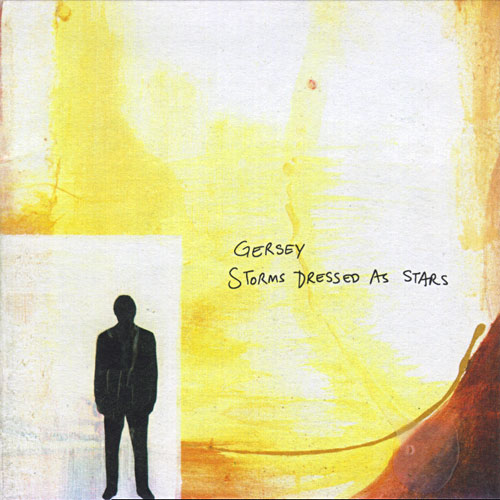 Releases
CD - Trifekta Records/Shock Records HORSE019-2L (Australia) - 2005 Reissue
Contains liner notes by Steve Kilbey:
Poignant, powerful and persuasive Gersey's Storms Dressed As Stars rolls out of the speakers like great grey waves rolling onto a winter shore.
Elegantly simple economic music that builds out of deceptive intervals into towering structures that evolve and revolve, intensifying like rain which falls in an increasing downpour.
Effortlessly straddling hammering shoegazery workouts where the twin guitars crash and arppegiate with/against each other relentlessly and intimate delicate pieces with the guitars gently locked together like some small chiming machine, Gersey's music is universal yet unique.
Crashing, which is one of the most desolately beautiful songs you will ever hear is typical Gersey. Beginning with a faint electronic whirr, the guitars come in twinkling and modulating and the amazing opening lines
If I stepped into the light
left my reflection
standing in doorways
and not look behind
the song grows imperceptibly, wringing every last implication out of its chords and its paradoxical lyrics are at once hopeful and elegaic, both personal and vaguely hugely universal. Beware, these songs are slippery, like dreams, each bit makes sense but when taken as a whole they remain engagingly nebulous.
You will never really pin these songs down. Without ever trying to be "mysterious" this music with its repetitions which blur and softly distort, the detached vague lyrics and voice which seamlessly becomes another element, is.
And that's the great thing about Gersey and Storms. No one thing dominates. There are no guitar solos as such and when outside elements like the female voice and strings appear, they are subtle.
Romantic music, ebbing and flowing. This record is a world to enter: long grey afternoons, loneliness and love, the grandeur and decay of time, hotels by the sea, crowded trams and empty rooms.
After listening to this record a hundred times, I am yet to penetrate its foggy veneer and nail its secrets down in broad daylight. And that's what makes me want to hear it again and again. You keep coming back to it like a delicious memory you can never quite frame.
Nice work!
Steve Kilbey
Sydney, July 2005