GODS & MYTHS ART EXHIBITION (2012)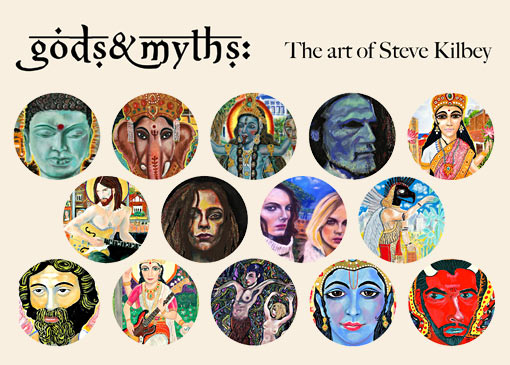 From Sept. 28 to Nov. 11, 2012, Steve put on an art exhibition at Futura Lifestyle and Collectables, 282 Bondi Rd., Bondi, NSW [defunct - now Beachside Thai Massage]. An opening reception was held on Sept. 28, 2012 (Opening Flyer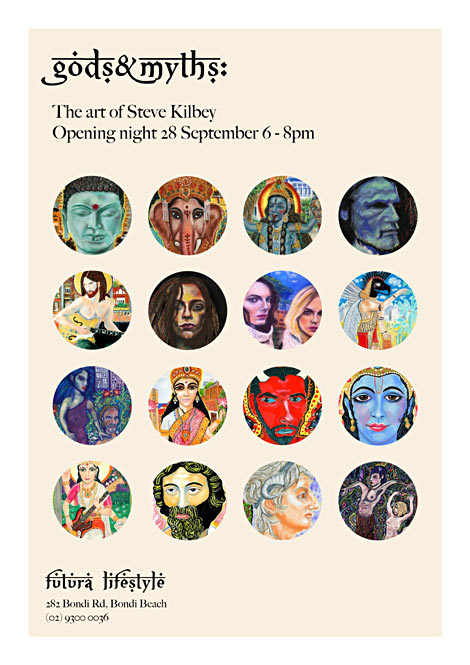 ). Fan Sharon Daniel took photos of the exhibit and the merch for sale. A video walk-through with Steve was filmed, and he posted to YouTube an edited version with bizarre effects and gaps in the commentary:
Original Artwork Exhibited
(roll over or tap a title to see the artwork)
Framed Prints Exhibited
(roll over or tap a title to see the artwork)
Notes
Steve mentioned this exhibit in his blog on Sept. 21, 2012 (Steve Kilbey rarities):
SK's latest art exhibition 'Gods & Myths' will commence 28th September 2012 at 6-8pm at Futura Lifestyle, 282 Bondi Road, Bondi Beach. Steve will be there to meet, greet and sign anything you'd like to purchase as well as any collected merch you may have.
He wrote this on October 2, 2012, after the opening reception:
i had a great exhibition
thank you sam
thank you rajani and scott at futura
thank you always to my art steering committee which is holly, eek and kiabgoa
This appeared in a Church Newsletter:
Steve Kilbey's exhibition Gods and Myths continues at Futura, 282 Bondi Road, Bondi.
An event to close the exhibition will be held on 11th of November, stay tuned for details in our next newsletter.
Please contact us for a catalogue.
Futura Lifestyle and Collectables was owned by husband and wife team Scott and Rajani Enderby, who were friends of Steve's. The painting "Kali in Bondi/Kali on Lamrock" depicts Rajani as Kali holding Steve's severed head. Rajani died in May 2018, at only 52, and Steve played "Under the Milky Way" at her funeral, fulfilling her wishes. An article about her passing and her relationship with Steve Kilbey was published in the Sydney monthly newspaper Neighbourhood. Drummer Scott Enderby has played with Steve Kilbey on occasion as part of The Winged Heels, filling in for regular drummer Barton Price.