PAINKILLER (2008)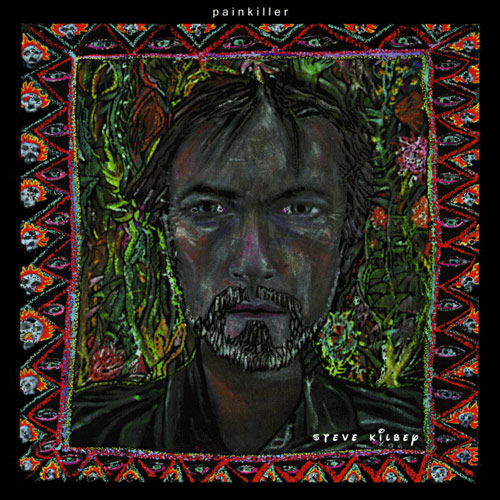 Credits
produced by sk
co-produced and engineered by tim powles
recorded spacejunk may 2007
mixed at laundry goat by simon polinski
mastered by greg o' shea and simon polinski
guitar bass piano mellotron vox: sk
drums mellotron vox: tp
radiotronics: william bowden
pedal steel guitar: graham lee
additional guitar on celestial: dave skeet
Thanks to MEM for art consultation
all songs kilbey/powles/bowden/polinski
except 2, 4 and 10 which are kilbey
www.stevekilbey.blogspot.com
www.stevekilbeyart.com
Releases
CD - Karmic Hit KH041 (Australia) - Sept. 15, 2008 - cardboard sleeve
      Back Cover | Inside of the Sleeve | Disc | Sticker
   

The first 100 pre-orders came with a free T-shirt.

CD - Second Motion Records PROMO SMR009 (USA Promo) - no front booklet - Back Cover
CD - Second Motion Records CD-SMR-009 (USA) - Feb. 17, 2009
Digital Download - Self-released (Australia) - Nov. 4, 2008 - Available on Bandcamp
Streaming - Available on Spotify
Notes
Marketing blurb:
Painkiller is vast and immediate, lyrically intoxicating, musically loose and rocking. Swinging from delicate, psychedelic pop songs to radiotronic, space-rock monsters. It stretches song structures and warps your mind through swirling highs and long comedowns. A masterpiece. The pump of sex, the swoon of drug, the struggle of man, a fix for a world in pain.
The front cover is a cropped version of Steve's painting The Vegetalista. A big portion of the top and a very small bit at the bottom of the painting were cropped, but the entire eye and skull border was used, compressed vertically to a square. Through some error, the white parts of the painting dropped out and appear black on the cover. This is most noticable in the eyes and skulls of the border, and in Steve's own eyes.
Cover - Whites Restored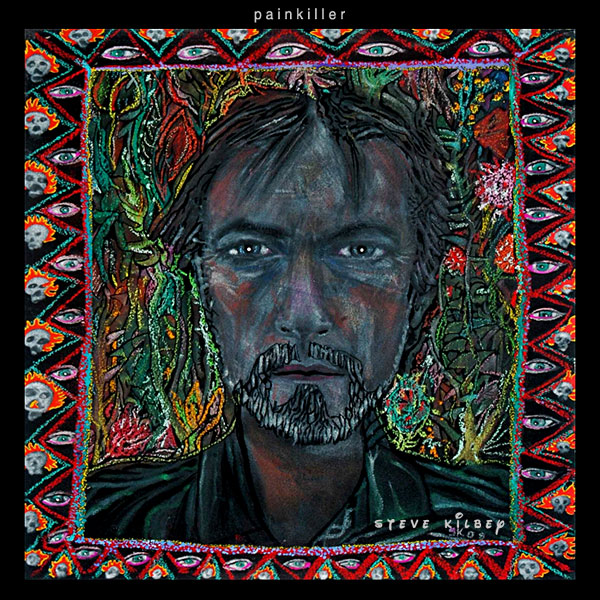 The back cover and disc include images of the Steve Kilbey painting Sentience. The inside of the sleeve includes an image of his painting Painkiller. There is a small promotional sticker on the wrapper.
The font used for Steve's name on the cover is based on the handwriting of animation and entertainment pioneer Walt Disney. It can be found on the internet under various names, such as Waltograph.
This is how Steve described this album on his blog on April 8, 2008:
the wild sweet hit of painkiller
space rock pomp rock psychy-fuckin'-delic rock
they may wanna ban this record in malaysia
such is the contact high oozing out of its grooves
you like wolfe live?
wait till you hear it with drums n orch
you like delicate achey ballads...try crystalline rush
you like e-like feeling... try look homeward angel
you like pounding drums and radiotronics...its all over it
some of you will like painkiller more than anything you ever heard
For more, see Steve's blog entry from July 7, 2008.
Reviews & Comments