SCREWED: STORIES ABOUT LOVE & SEX (1998)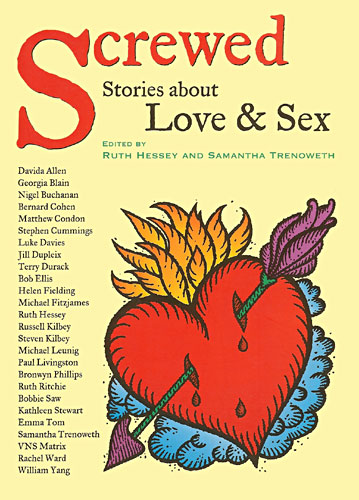 This book is a collection of short stories exploring sex and love in the 1990s.
Steve Kilbey contributed the short story "In the beginning [all over again]" (9 pages).
From the Back Cover
Do you feel screwed every time you interact with a member of the opposite sex? Or do you feel marvellously fulfilled? In this collection from both sides of the fence [and sometimes from the top of it] many of the stars of the contemporary arts reveal their own reactions to love and sex at the end of the millennium — from the impulse to bark like a dog or scratch like a gorilla, to disappearing into thin air.
Whether robust or ethereal, set in the back seat of a car or the garden of Eden, these stories express all the yearning, confusion, wonder and lust of the modern state of play.
Contributors from across the arts spectrum range from Davida Allen to Bob Ellis, Nigel Buchanan to Luke Davies, Michael Leunig, Terry Durack and Jill Dupleix, Helen Fielding, Michael Fitzjames, Rachel Ward, Matthew Condon, Emma Tom, Ruth Ritchie, Georgia Blain, Kathleen Stewart, VNS Matrix, Russell Kilbey, Paul Livingston, Bobbie Saw and Bernard Cohen. There are also contributions from performers such as William Yang and Bronwyn Phillips, songwriters like Steven Kilbey and Stephen Cummings, as well as the editors themselves, Samantha Trenoweth and Ruth Hessey.
Releases
Paperback - Allen & Unwin, ISBN: 1-86448-755-0, 210 mm x 150 mm, 214 pages (Australia) - June, 1998
Notes
Edited by Ruth Hessey and Samantha Trenoweth. Design by Michael Callaghan.
Russell Kilbey contributed the story "Brother Ryan's Heavenly Gate" (8 pages).
Stephen Cummings' story is titled "Nothing is enough" (11 pages).